"Waiting On" Wednesday is a weekly event hosted by Breaking the Spine, where you pick a book that is coming out soon that you want to read.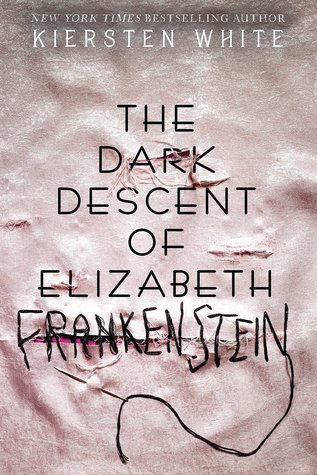 Summary from Goodreads:
Elizabeth Lavenza hasn't had a proper meal in weeks. Her thin arms are covered with bruises from her "caregiver," and she is on the verge of being thrown into the streets . . . until she is brought to the home of Victor Frankenstein, an unsmiling, solitary boy who has everything--except a friend.

Victor is her escape from misery. Elizabeth does everything she can to make herself indispensable--and it works. She is taken in by the Frankenstein family and rewarded with a warm bed, delicious food, and dresses of the finest silk. Soon she and Victor are inseparable.

But her new life comes at a price. As the years pass, Elizabeth's survival depends on managing Victor's dangerous temper and entertaining his every whim, no matter how depraved. Behind her blue eyes and sweet smile lies the calculating heart of a girl determined to stay alive no matter the cost . . . as the world she knows is consumed by darkness.
Release Date:
September 25th 2018
My Notes:
I love retellings (as you can tell by the name of my blog!) so I'm excited to read this upcoming retelling of Frankenstein! :)
Wishlist Wednesday is where you show a book that has been on your wishlist/TBR list for a while, the meme is hosted by Pen to Paper.

Summary from Goodreads:
The haunting follow up to the Edgar Award-winning debut In the Woods
Tana French astonished critics and readers alike with her mesmerizing debut novel, In the Woods. Now both French and Detective Cassie Maddox return to unravel a case even more sinister and enigmatic than the first. Six months after the events of In the Woods, an urgent telephone call beckons Cassie to a grisly crime scene. The victim looks exactly like Cassie and carries ID identifying herself as Alexandra Madison, an alias Cassie once used. Suddenly, Cassie must discover not only who killed this girl, but, more importantly, who is this girl? A disturbing tale of shifting identities, The Likeness firmly establishes Tana French as an important voice in suspense fiction. And look for French's new mystery, Broken Harbor, for more of the Dublin Murder Squad.
The "expertly rendered, gripping new novel" (Janet Maslin, The New York Times)-from the bestselling author of In the Woods and The Likeness.
Tana French's In the Woods and The Likeness captivated readers by introducing them to her unique, character-driven style and her new mystery, Broken Harbor, is eagerly anticipated. Her singular skill at creating richly drawn, complex worlds makes her novels not mere whodunits but brilliant and satisfying novels about memory, identity, loss, and what defines us as humans. With Faithful Place, the highly praised third novel about the Dublin Murder squad, French takes readers into the mind of Frank Mackey, the hotheaded mastermind of The Likeness, as he wrestles with his own past and the family, the lover, and the neighborhood he thought he'd left behind for good.
My Notes:

I've put off reading this series for a while now. I enjoyed book one and hope to read this soon. I want to collect the whole series and binge read all of the books! :)