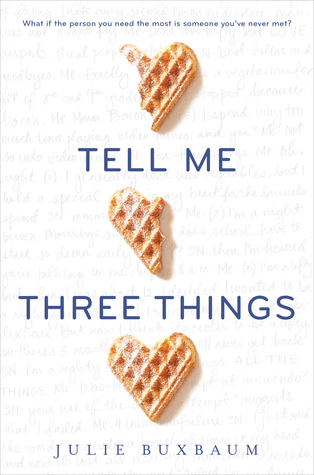 Summary from Goodreads:
Everything about Jessie is wrong. At least, that's what it feels like during her first week of junior year at her new ultra-intimidating prep school in Los Angeles. Just when she's thinking about hightailing it back to Chicago, she gets an email from a person calling themselves Somebody/Nobody (SN for short), offering to help her navigate the wilds of Wood Valley High School. Is it an elaborate hoax? Or can she rely on SN for some much-needed help?
It's been barely two years since her mother's death, and because her father eloped with a woman he met online, Jessie has been forced to move across the country to live with her stepmonster and her pretentious teenage son.
In a leap of faith—or an act of complete desperation—Jessie begins to rely on SN, and SN quickly becomes her lifeline and closest ally. Jessie can't help wanting to meet SN in person. But are some mysteries better left unsolved?
My Review:
What I Liked:
Characters. The aspect, besides the writing, that spoke to me was the well-crafted characters. I tend to enjoy main characters and feel meh about the side ones but Buxbaum did a great job making all of her characters complex and interesting. I like the fact that the novel was only from Jessie's point of view, by doing that it helped me connect with the character. And don't get me started on the love interest, so cute! :)
Plot. I went in blind, just picked the novel from the library based on the cover, and enjoyed the plot. I felt that it showed grief/loss in a relatable way. My heart was completely in the story from page one, mainly because of the characters but also what they go through. I also loved the romance aspect, something I that usually falls flat for me. The romance was sweet, dorky, and so realistic!
Writing. This was my first experience with Julie Buxbaum's writing and I was pleasantly surprised by how much I enjoyed it. Buxbaum's writing style flowed really well and I connected with it.
I recommend checking out this great contemporary novel, it was a perfect balance of character development and romance!
My Rating:
5 Stars Out of 5 Stars