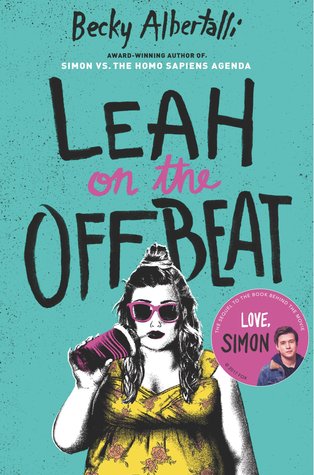 Summary from Goodreads:
Leah Burke—girl-band drummer, master of deadpan, and Simon Spier's best friend from the award-winning Simon vs. the Homo Sapiens Agenda—takes center stage in this novel of first love and senior-year angst.
When it comes to drumming, Leah Burke is usually on beat—but real life isn't always so rhythmic. An anomaly in her friend group, she's the only child of a young, single mom, and her life is decidedly less privileged. She loves to draw but is too self-conscious to show it. And even though her mom knows she's bisexual, she hasn't mustered the courage to tell her friends—not even her openly gay BFF, Simon.
So Leah really doesn't know what to do when her rock-solid friend group starts to fracture in unexpected ways. With prom and college on the horizon, tensions are running high. It's hard for Leah to strike the right note while the people she loves are fighting—especially when she realizes she might love one of them more than she ever intended.
My Review:
What I Liked:
Characters. It was great getting to see all of my favorite characters. I would have liked more Simon/Bram because they are so cute but the author did a great job balancing it. But then again I felt that there was not enough Leah in book one and this made up for that. I liked seeing into her world and her interactions with her mother.
Leah. I loved seeing everything from Leah's point of view. I've seen from other reviews did not like her personality but for me it just clicked. I love deadpan, sarcastic style humor and Leah does that really well.
I really liked that Albertalli
did a positive fat representation
where Leah was comfortable in her
Writing Style. I recently reread book one of the Creekwood series and just enjoy Albertalli's writing style. She is able to create characters that make the reader smile about or laugh.
What I Disliked:
Rushed. I was completely loving the novel until the last fifty or so pages. I felt that the conclusion was a bit rushed and left things unanswered. I won't spoil things it just felt incomplete in some way.
Out of Character. I felt that some characters like Nick acted weird in this book. Compared to what the character was like in book one. Leah, Simon, Abby, Bram all seemed the same from the previous novel but a few other side characters were a bit different.
I recommend checking this if you liked Leah and want a good light romantic read. Plus, Simon and Bram are adorkable.
My Rating:
4 Stars Out of 5 Stars