"Waiting On" Wednesday is a weekly event hosted by Breaking the Spine, where you pick a book that is coming out soon that you want to read.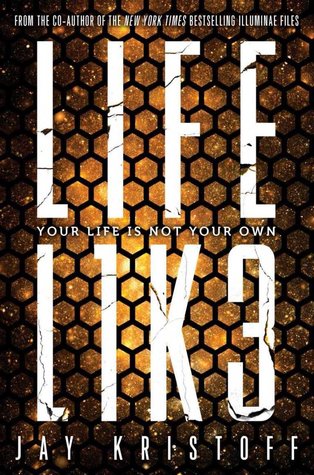 Summary from Goodreads:
On an island junkyard beneath a sky that glows with radiation, a deadly secret lies buried in the scrap.
Seventeen-year-old Eve isn't looking for trouble--she's too busy looking over her shoulder. The robot gladiator she spent months building has been reduced to a smoking wreck, she's on the local gangster's wanted list, and the only thing keeping her grandpa alive is the money she just lost to the bookies. Worst of all, she's discovered she can somehow destroy machines with the power of her mind, and a bunch of puritanical fanatics are building a coffin her size because of it.
If she's ever had a worse day, Eve can't remember it. The problem is, Eve has had a worse day--one that lingers in her nightmares and the cybernetic implant where her memories used to be. Her discovery of a handsome android named Ezekiel--called a "Lifelike" because they resemble humans--will bring her world crashing down and make her question whether her entire life is a lie.
With her best friend Lemon Fresh and her robotic sidekick Cricket in tow, Eve will trek across deserts of glass, battle unkillable bots, and infiltrate towering megacities to save the ones she loves... and learn the truth about the bloody secrets of her past.
Release Date:
May 29th 2018
My Notes:
This sounds amazing, a robot fighting ring! I cannot wait to read it.
Wishlist Wednesday is where you show a book that has been on your wishlist/TBR list for a while, the meme is hosted by Pen to Paper.

Summary from Goodreads:
The author of the award winning, smash bestseller, I Let You Go, propels readers into a dark and claustrophobic thriller, in which a normal, everyday woman becomes trapped in the confines of her normal, everyday world...
Every morning and evening, Zoe Walker takes the same route to the train station, waits at a certain place on the platform, finds her favorite spot in the car, never suspecting that someone is watching her...
It all starts with a classified ad. During her commute home one night, while glancing through her local paper, Zoe sees her own face staring back at her, a grainy photo along with a phone number and listing for a website called findtheone.com.
Other women begin appearing in the same ad, a different one every day, and Zoe realizes they've become the victims of increasingly violent crimes—including rape and murder. With the help of a determined cop, she uncovers the ad's twisted purpose...a discovery that turns her paranoia into full-blown panic. For now Zoe is sure that someone close to her has set her up as the next target.
And now that man on the train—the one smiling at Zoe from across the car—could be more than just a friendly stranger. He could be someone who has deliberately chosen her and is ready to make his next move…
My Notes:

I recently read Mackintosh's latest novel (Let Me Lie) and it was a thrilling read! So I'm looking forward to checking out the rest of her novels.