Teaser Tuesday is a weekly feature hosted by Purple Princess of
The Purple Booker.
Here are the rules:
1. Grab your current read
2. Open to a page
3. Pick out 2 lines that are SPOILER FREE
4. Name the title, author, etc
"'Guys, use napkins if you need to; I don't want to get oil on the run,' Flo said, hovering around as the others began to dig in. 'Oh, and make sure you leave the veggie slices for Tom, please?'
'Flops.' Clare put a hand on her shoulder. 'I'm sure it's fine. There's no way Tom can eat all those slices. Plus there's more in the freezer if we run out.'
'I know,' Flo said. Her face was red and she pushed her hair impatiently back into its clip. There was pizza sauce on her silver top. 'But it's a matter of principle. If people want the veggie option, they should order it. I've got no patience with people who hog the veggie meals just because they don't fancy the meat choice. It just means the veggie guests go without!' (
In a Dark, Dark Wood
by Ruth Ware. pg. 69)
Top Ten Thrillers That Surprised Me
#172
1.
Let Me Lie
by Clare Mackintosh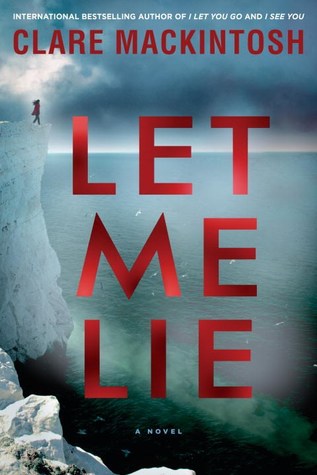 2.
The Breakdown
by B.A. Paris
3.
Behind Closed Doors
by B.A. Paris
4.
The Perfect Girl
by Gilly Macmillan
5.
First We Were IV
by Alexandra Sirowy
6.
The Lying Game
by Ruth Ware
7.
You Will Know Me
by Megan Abbott
8.
What She Knew (Jim Clemo #1)
by Gilly Macmillan
9.
A Darkness Absolute (Rockton #2)
by Kelley Armstrong
10.
The Woman in Cabin 10
by Ruth Ware