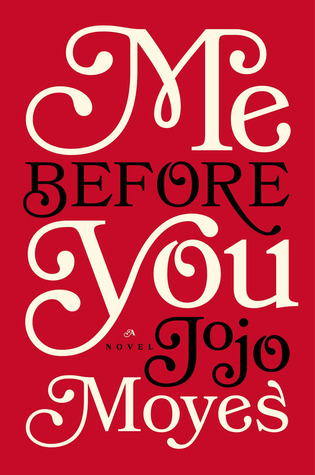 Summary from Goodreads:
Louisa Clark is an ordinary young woman living an exceedingly ordinary life—steady boyfriend, close family—who has never been farther afield than their tiny village. She takes a badly needed job working for ex-Master of the Universe Will Traynor, who is wheelchair-bound after an accident. Will has always lived a huge life—big deals, extreme sports, worldwide travel—and now he's pretty sure he cannot live the way he is.
Will is acerbic, moody, bossy—but Lou refuses to treat him with kid gloves, and soon his happiness means more to her than she expected. When she learns that Will has shocking plans of his own, she sets out to show him that life is still worth living.
A love story for this generation, Me Before You brings to life two people who couldn't have less in common—a heartbreakingly romantic novel that asks, What do you do when making the person you love happy also means breaking your own heart?
My Review:
My goal this year is to finish series, which means rereading (something I don't do) and first up is the Me Before You series! :) I loved book one while book two was just okay and I have book three (released January) all ready to read! :) Despite hating rereading I had a good time reading this for the second time around.
What I Liked:

Writing Style. Moyes does a great job crafting her novels, creating interesting characters and situations. Moyes was able to create a world that sucks you in and hits you with intense emotions.

Characters. Louisa Clark is one of my all time favorite chick lit main characters, it was easy to connect with her on an emotional level. Plus, it makes it easier to read the entire series because I always look forward to going back into Lou's point of view. The side characters, mainly Will and Nathan, were great as well.

Setting. Moyes captured the small town perfectly and I loved the atmosphere of the novel. The castle added an interesting touch to the setting and it was easy to get sucked into Louisa's world, even if it was a small one.
What I Disliked:

Lou''s Family. The second time around I had a hard time liking Louisa's family because I felt that they did not appreciate her. Some of scenes were hard to read, mainly how they made her sleep in the smallest room and made her so uncomfortable that she left the house.
I recommend checking out the series, I'd forgotten how great it was and how much I loved Louisa Clark.
My Rating:
4.5 Stars Out of 5 Stars