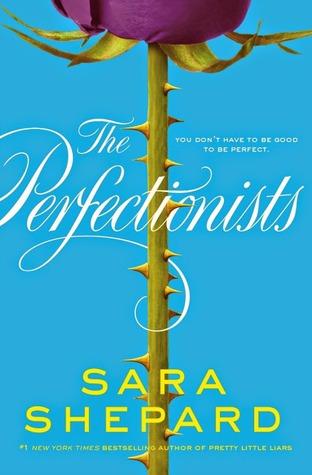 Summary from Goodreads:
From the author of the #1 New York Times bestselling series Pretty Little Liars comes a thrilling new novel about five perfect girls who are framed for a murder they didn't commit.

In Beacon Heights, Washington, five girls—Ava, Caitlin, Mackenzie, Julie, and Parker—know that you don't have to be good to be perfect. At first the girls think they have nothing in common, until they realize that they all hate Nolan Hotchkiss, who's done terrible things to each of them. They come up with the perfect way to kill him—a hypothetical murder, of course. It's just a joke...until Nolan turns up dead, in exactly the way they planned. Only, they didn't do it. And unless they find the real killer, their perfect lives will come crashing down around them.

From Sara Shepard, author of the #1 New York Times bestselling Pretty Little Liars series, comes another story of dark secrets, shocking twists, and what happens when five beautiful girls will do anything to hide the ugly truth.
My Review:
This was a quick and enjoyable read, but I would have loved it more if it was a stand-alone novel. I'm not sure I want to read the next novel, and I'm hoping that it does not turn into the
Pretty Little Liars
series where there are way too many novels and the mystery is never solved.
I've read a few of the
Pretty Little Liars
novels and watched the show, and I think this new series seems too close in plot. I would have loved it more if there was less characters and POVS and a original plot, but it did keep me reading.
However, if this is made into a TV show I will be watching, mainly because of the character Parker, I loved her and wanted the whole book to be from her POV.
I recommend checking this out if you like Pretty Little Liars or YA mysteries.
My Rating:
Three Stars Out of Five.