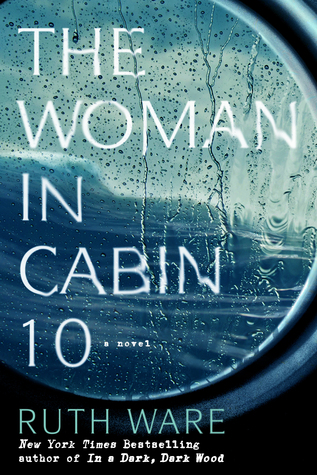 Summary from Goodreads:
In this tightly wound story, Lo Blacklock, a journalist who writes for a travel magazine, has just been given the assignment of a lifetime: a week on a luxury cruise with only a handful of cabins. At first, Lo's stay is nothing but pleasant: the cabins are plush, the dinner parties are sparkling, and the guests are elegant. But as the week wears on, frigid winds whip the deck, gray skies fall, and Lo witnesses what she can only describe as a nightmare: a woman being thrown overboard. The problem? All passengers remain accounted for—and so, the ship sails on as if nothing has happened, despite Lo's desperate attempts to convey that something (or someone) has gone terribly, terribly wrong…
With surprising twists and a setting that proves as uncomfortably claustrophobic as it is eerily beautiful, Ruth Ware offers up another intense read.
My Review:
What I Liked:
Main Character.
It was interesting to experience the novel from a narrator that you did not know if they were a unreliable or not. Plus, out of all the characters I connected with Lo because of the detailed and realistic images of anxiety and panic attacks that Ware depicted through out the novel.

Ending/Twists.
I've heard that others felt that the novel was predictable. I felt that Ware did a great job creating an interesting twist filled ending. I did not see the twists coming and it was fun to read and try to guess what was going to happen next. I may just be a newbie in the murder mystery genre but I felt that the story was unique, with the murder happening on a boat, and with the way it unfolded.
Writing style.
I enjoyed Ware's writing style and it kept me reading until the end because I wanted to know how the thriller unfolded. She did a great job depicting the way anxiety/panic attacks feel to those who have them (which hit a little too close to home) and her writing style really created the suspense/thriller aspects.
What I Disliked:
Side Characters.
I was not a huge fan of the other cast of characters in the novel. The only one I really liked (besides one other but no spoilers!) was Lo, the main character, while the others did not stand out to me. It would have been interesting to read a chapter or section from the other character's point of views.
Pacing.
I struggled a bit near the end around the 200 page mark because of the pacing. However, I started to get invested again near the end. The interesting twists that happened near the end managed to get my attention back and I few through the last fifty pages.
I recommend checking this novel/author out if you are interested in a short and suspense murder mystery.
My Rating:
3.5 Stars Out of 5 Stars