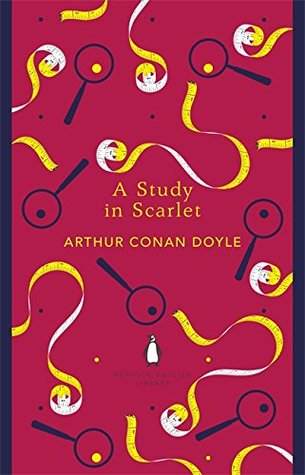 Summary from Goodreads:
When Dr John Watson takes rooms in Baker Street with amateur detective Sherlock Holmes, he has no idea that he is about to enter a shadowy world of criminality and violence. Accompanying Holmes to an ill-omened house in south London, Watson is startled to find a dead man whose face is contorted in a rictus of horror. There is no mark of violence on the body yet a single word is written on the wall in blood. Dr Watson is as baffled as the police, but Holmes's brilliant analytical skills soon uncover a trail of murder, revenge and lost love . . .
My Review:
I've been meaning to pick up this classic mystery ever since I started watching the TV show back in 2011. I was a bit intimated by the length of my edition but I'm happy that I finally overcame that and picked this up. (now I just need to do the same with
Moby Dick
). The fact that I watched and enjoyed the films/TV show helped with my reading experience and I hope to move on to rest of Doyle stories soon.
What I Liked:
Characters.
John Watson has easily become one of my favorite characters in fiction and on the screen. Plus, Sherlock as always was entertaining and it was fun to read about the character form Watson's view because is not afraid to say when his friend is being conceited
or compliment him when he does something amazing.
Writing Style.
I enjoyed the fact that the point of view is solely from Watson (besides a few chapters in the second part) because he has a great voice/humor.
Plot.
The first part of A Study in Scarlet was interesting and I loved reading about Sherlock's deduction skills and his lack of social graces described by Watson. The mystery was intriguing and it kept me guessing until the second part/the end of the tale.
What I Disliked:
Pacing/Second Plot.
The second part went away from the John Watson narration and it was hard to follow. I would have liked it more if the narration style did not change even if it did remove some of the backstory. Plus, the pacing/length of the second part dragged on and I struggled to finish up the last half of the novel.
I recommend checking this classic mystery series out if you enjoy the films/TV versions of it. I'm planning on reading the rest of Doyle's work because I love the characters.
My Rating:
3.5 Stars Out of 5 Stars.