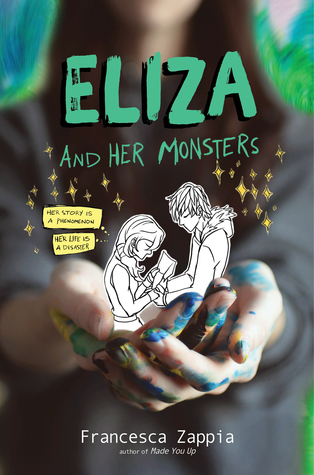 Summary from Goodreads:
Her story is a phenomenon. Her life is a disaster.
In the real world, Eliza Mirk is shy, weird, and friendless. Online, she's LadyConstellation, the anonymous creator of the wildly popular webcomic Monstrous Sea. Eliza can't imagine enjoying the real world as much as she loves the online one, and she has no desire to try.
Then Wallace Warland, Monstrous Sea's biggest fanfiction writer, transfers to her school. Wallace thinks Eliza is just another fan, and as he draws her out of her shell, she begins to wonder if a life offline might be worthwhile.
But when Eliza's secret is accidentally shared with the world, everything she's built—her story, her relationship with Wallace, and even her sanity—begins to fall apart.
My Review:
I've been in a reading slump this year but I'm hoping that the fact I devoured this novel means that it is over. I'm trying to read more stand-alone novels to avoid the pressure of starting or finishing new series, and this was a great start.
What I Liked:
Plot.
It was refreshing to read such an

unique

contemporary young adult novel. I loved the added comic elements and the focus on online friends and the fandom world.
Main Character.
Eliza was a interesting main character that I connected with because I also suffer from social anxiety. I did not care for some of her choices as a character but
Side Characters.
I loved the fact that Eliza's family and her online friends were well-developed characters. It would have been interesting to see the story from Wallace's point of view or more from Eliza's online friends, Emma and Max.
Social Anxiety.
I feel that Zappia did a great job of showing what social anxiety is really like and parts of it were hard for me to read because of my own experiences. The novel is great example of what people suffer with on a daily basis and that is not usually not shown or expressed correctly in novels.
What I Disliked:
Relationships/Plot.
Despite the fact that I really enjoyed the novel I did struggle with reading some of the interactions between Eliza and her parents. However, I do understand why it was that way because Eliza and her parents had a hard time connecting. I just cringed a bit whenever Eliza was rude to her brothers/parents. (the ending did make up for that).
Pacing.
I had a hard time getting into the novel, with the first 100 pages or so, but as it went on it got easier to read and connect with Eliza.
I recommend checking out this emotional and well-crafted contemporary novel. Warning It may make you cry or stay up all night reading it.
My Rating:
4.5 Stars Out of 5 Stars