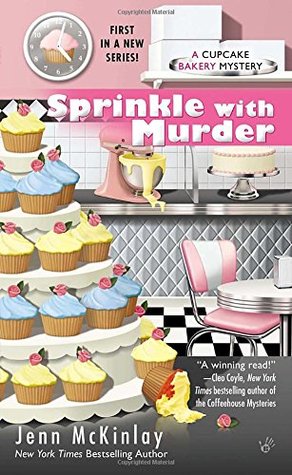 Summary from Goodreads:
Melanie Cooper and Angie DeLaura are finally living out their dream as the proud owners of the Fairy Tale Cupcakes bakery. But their first big client is a nightmare. She's a bridezilla who wants 500 custom cupcakes for her wedding.

When Mel stumbles upon the bride-to-be dead-by-cupcake, she becomes the prime suspect. To save themselves and their business, the ladies need to find the real murderer, before the cupcake killer ices someone else.
My Review:
What I Liked:
Characters.
I was a fan of the main character, Melanie, and happy that the novel took place from her point of view. She was easy to connect with. The side-characters (besides the possible love interests) were great as well, Angie, Tate, and others.
Plot.
It was not a unique concept but I still loved the premise of a cupcake owner solving mysteries. And the recipes at the end made me want to try and bake my own cupcakes.
Writing/Humor.
I enjoyed the writing style because the novel was a breeze to get through in an hour or so. Plus, the humor was great addition to the novel, the whole rival bakery owner trying to sabotage them was hilarious (most of all when Mel/Angie threw frosting at her car window).
Downsides:
The whole murder mystery surrounding a protagonist who owns a business or bakery has been done quite a bit. However, I believe that McKinlay did a good job of making this one stand out.
The other aspect I could have done without was the romance. I have a bad feeling that a love triangle is in the works. After reading the horrible one in the Hannah Swanson cozy series I hate drawn out love triangles.
Overall, this was a quick and fun read. I'm planning on reading the rest of the series.
My Rating:
4 Stars Out of 5 Stars