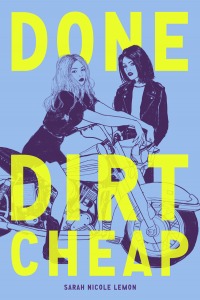 Summary from Goodreads:
Tourmaline Harris's life hit pause at fifteen, when her mom went to prison because of Tourmaline's unintentionally damning testimony. But at eighteen, her home life is stable, and she has a strong relationship with her father, the president of a local biker club known as the Wardens.
Virginia Campbell's life hit fast-forward at fifteen, when her mom "sold" her into the services of a local lawyer: a man for whom the law is merely a suggestion. When Hazard sets his sights on dismantling the Wardens, he sends in Virginia, who has every intention of selling out the club—and Tourmaline.
But the two girls are stronger than the circumstances that brought them together, and their resilience defines the friendship at the heart of this powerful debut novel.
Sons of Anarchy meets Thelma & Louise.
My Review:
What I Liked:
Tourmaline and Virginia.
It has been a while since I loved both points of view in a duel narrative story. The two strong female characters are fun to read and I enjoyed how diverse they are from one another. The growth of their friendship throughout the novel was realistic and not instantaneous.
The Writing.
I loved the lyrical and poetic style of Lemon's writing (most of time it was during Tourmaline's point of view), it kept me interested in the story and it was unexpected.
The plot.
I'm a huge fan of
Sons of Anarchy
and it was interesting to read a similar story but from the point of view of women.
What I Disliked:
Romance.
I would have loved the story even more if the element of romance was cut, however, I did like the fact that Lemon does not have instant romances.
Pacing and the Flow.
I noticed other reviews that stated that they had trouble following the plot and prose and I agree it is hard to keep up at various moments. However, I was able to figure out what was going on even if I did feel like it was rushed. The novel, most of all the romance aspects, could have been paced out.
Despite that I really enjoyed this novel! :) I'm hoping that we will get to see more from this universe or revisit the characters!
I recommend checking out this novel if you love strong female characters and
Sons of Anarchy
.
My Rating:
4 Stars Out of 5 Stars.