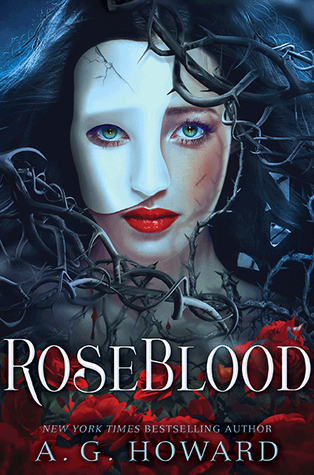 Summary from Goodreads:
In this modern day spin on Leroux's gothic tale of unrequited love turned to madness, seventeen-year-old Rune Germain has a mysterious affliction linked to her operatic talent, and a horrifying mistake she's trying to hide. Hoping creative direction will help her, Rune's mother sends her to a French arts conservatory for her senior year, located in an opera house rumored to have ties to The Phantom of the Opera.
At RoseBlood, Rune secretly befriends the masked Thorn—an elusive violinist who not only guides her musical transformation through dreams that seem more real than reality itself, but somehow knows who she is behind her own masks. As the two discover an otherworldly connection and a soul-deep romance blossoms, Thorn's dark agenda comes to light and he's forced to make a deadly choice: lead Rune to her destruction, or face the wrath of the phantom who has haunted the opera house for a century, and is the only father he's ever known.
My Review:
What I Liked:
Rune and Thorn.
The characters (and some of the strange side characters) were the best part of this POTO retelling and I loved both of the main characters points of view. Rune felt like a real girl that has to deal going to a boarding school in a different country, I connected with her character and loved the fact that she was down to earth and did not make stupid choices. And Thorn was such an unique character, it was interesting to read about his past and I loved reading from his point of view.
The Romance.
Despite some of the aspects that I did not care for I still enjoyed the novel and the romance was the main reason I kept reading. I was rooting for the main love interests and I would love to read more with the couple.
The writing/plot.
I'm a fan of Howard's writing style (from her Alice in Wonderland retelling) because it is unique and I never know what to expect from chapter to chapter. I was disappointed with some aspects of the plot but I appreciate the inventiveness and creativity with the story line.
What I Did Not Like:
Plot.
Howard combines
The Phantom of the Opera
with paranormal elements and as fan of the original novel it was not my favorite mixture. I think it would have been stronger as a separate plot without the retelling aspect. And I struggled with some of the parts that felt like there was too much information in a short amount of pages.
Pacing.
I struggled with the pacing of the first half and I had to push myself to keep reading.
I recommend checking out this novel for the interesting story but as a die hard phantom fan it was a bit disappointing.
My Rating:
3.5 Stars Out of 5 Stars