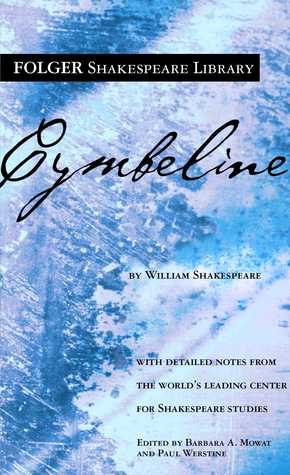 Summary from Goodreads:
Cymbeline also known as Cymbeline, King of Britain or The Tragedy of Cymbeline, is a play by William Shakespeare, based on legends concerning the early Celtic British King Cunobeline. Although listed as a tragedy in the First Folio, modern critics often classify Cymbeline as a romance. Like Othello and The Winter's Tale, it deals with the themes of innocence and jealousy. While the precise date of composition remains unknown, the play was certainly produced as early as 1611.

The plot of Cymbeline is based on a tale in the chronicles of Raphael Holinshed and is ultimately derived from part of the Historia Regum Britanniae of Geoffrey of Monmouth about the real-life British monarch Cunobelinus. Shakespeare, however, freely adapts the legend and adds entirely original sub-plots. Iachimo's wager and subsequent hiding-place inside a chest in order to gather details of Imogen's room derive from story II.9 of Giovanni Boccaccio's Decameron.
My Review:
The plot/story was so unique/weird that it made me want to keep reading even if I was struggling with the language.
The characters. Imogen and her brothers! I loved the whole royal family expect the villains: her step-mother and step-brother, lol. :)
The poetic language. Even if I do not care for a Shakespeare play I still love the metaphors and the beautiful language
The main reason I docked two stars off of this play was Act 5, it was extremely confusing and I was not a fan of the ending at all. :(
It brings it mystical elements at the end and I disliked all of the 'hollywood' conclusions, mainly with Imogen going back to Posthumus (he tried to get someone to kill her).
I recommend checking out this Shakespeare play that is never talked about!
My Rating:
3 Stars Out of 5 Stars