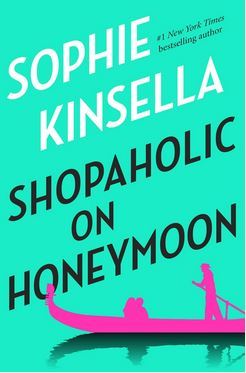 Summary from Goodreads:
This free eBook short story fills in the gaps of Sophie Kinsella's bestselling Shopaholic series, following Becky Brandon and her husband, Luke, as they start their luxurious yearlong honeymoon around the world. But these jet-setters are about to hit some turbulence. Becky and Luke are in Venice-the city of winding canals, gorgeous historic buildings, and, of course, exceptional shopping. To unwind from the stress of their wedding, Becky has planned an utterly blissful honeymoon where, for an entire year, they will hop from one country to the next-Italy to the Czech Republic to Sri Lanka and beyond-as they please. But lately, Luke has been more restless than relaxed. In fact, he seems (unbelievably!) like he wants to go home. Will Becky be able to save their dream vacation, or will their globe-trotting come to a sudden halt?
My Review:
I finally decided to pick up this short story, it was only 28 pages but I wanted to wait until I finished the third book in the series (I love to go in order).
The main reason I'm still reading this series is Becky, I enjoy her character and the humor/lightness of the series compels me to keep reading.
However, I'm still not the biggest fan of overspending, lol, it hurts a little watching Becky give into her shopaholic ways. Besides that element I love picking up Kinsella's novels as an escape into a world where everything works out in the end. :)
I believe the short story could have been a lot longer, it was kind of disappointing because I wanted to read about rest of the Honeymoon.
I recommend reading this if you enjoy the series, and love Luke/Becky. :)
My Rating:
3 Stars Out of 5 Stars