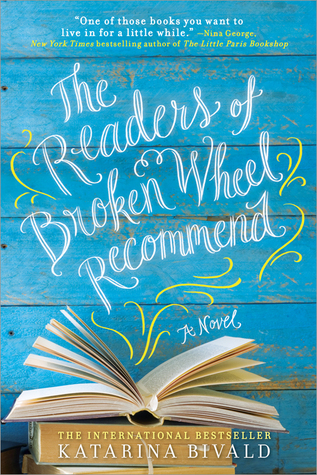 Summary from Goodreads:
Once you let a book into your life, the most unexpected things can happen...
Broken Wheel, Iowa, has never seen anyone like Sara, who traveled all the way from Sweden just to meet her pen pal, Amy. When she arrives, however, she finds that Amy's funeral has just ended. Luckily, the townspeople are happy to look after their bewildered tourist—even if they don't understand her peculiar need for books. Marooned in a farm town that's almost beyond repair, Sara starts a bookstore in honor of her friend's memory.
All she wants is to share the books she loves with the citizens of Broken Wheel and to convince them that reading is one of the great joys of life. But she makes some unconventional choices that could force a lot of secrets into the open and change things for everyone in town. Reminiscent of The Guernsey Literary and Potato Peel Pie Society, this is a warm, witty book about friendship, stories, and love
My Review:
The last half of the novel went off into unrealistic areas and I almost lost interest, however, the great main character, Sara, kept me reading.
I think I would have enjoyed this without the love stories, it could have just forced more on the life of Amy and the creation/upkeep of the bookstore (yes I am a nerd and wanted more about the books).
Despite some nit picking I adored the book for what it was, a cute story that intwined the love of books, traveling to new places, and the questioning of the future.
The side characters were okay (some I could have done without) but my all time favorite was the side story with George and his family, it broke my heart.
I would pick up another book if this turns out to be a series.
I recommend that book lovers check this out (be warned there are some spoilers for other novels in here).
My Rating:
4 Stars Out of 5