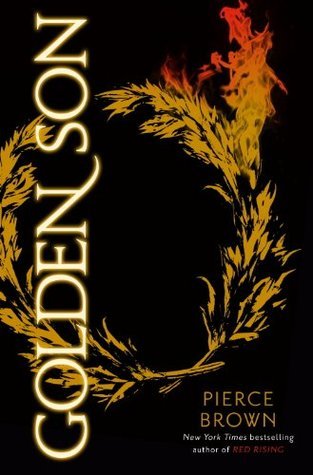 Summary from Goodreads:
With shades of The Hunger Games, Ender's Game, and Game of Thrones, debut author Pierce Brown's genre-defying epic Red Rising hit the ground running and wasted no time becoming a sensation.

Golden Son continues the stunning saga of Darrow, a rebel forged by tragedy, battling to lead his oppressed people to freedom from the overlords of a brutal elitist future built on lies. Now fully embedded among the Gold ruling class, Darrow continues his work to bring down Society from within.

A life-or-death tale of vengeance with an unforgettable hero at its heart, Golden Son guarantees Pierce Brown's continuing status as one of fiction's most exciting new voices.
My Review:
It as always took me way too long to pick up the sequel to Red Rising, a science fiction novel I adored (and that rarely happens) because when I like a series I hate finishing it, lol.
It took a bit to get into the world once again, mainly because I'd forgotten everything about book one, but once I did it was a great and twisting read. However, once again the world was so unique that it sucked me in after a while.
Even though I disliked a lot of the characters save for a select few (Servo, Darrow, Mustang) I would still read just for the ones I enjoyed and the good story telling that took place.
There was some flaws, a section with way too much battle descriptions, and some blah characters but overall the fact that it kept me on my toes and interested so deeply means that earned a 5 stars from me. :)
Me while reading this book and that ending!:
I recommend checking out this series if you enjoy great world building, good main characters, and intense story telling and twists. :)
My Rating:
5 Stars Out of 5