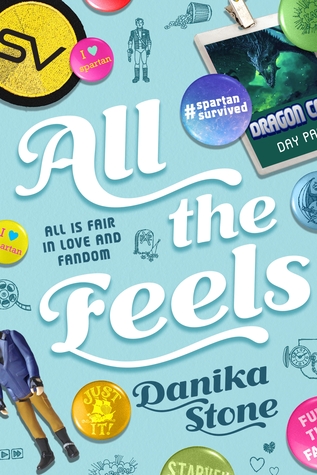 Summary from Goodreads:
College freshman Liv is more than just a fangirl: The Starveil movies are her life… So, when her favorite character, Captain Matt Spartan, is killed off at the end of the last movie, Liv Just. Can't. Deal.
Tired of sitting in her room sobbing, Liv decides to launch an online campaign to bring her beloved hero back to life. With the help of her best friend, Xander, actor and steampunk cosplayer extraordinaire, she creates #SpartanSurvived, a campaign to ignite the fandom. But as her online life succeeds beyond her wildest dreams, Liv is forced to balance that with the pressures of school, her mother's disapproval, and her (mostly nonexistent and entirely traumatic) romantic life. A trip to DragonCon with Xander might be exactly what she needs to figure out what she really wants.
My Review:
I had high expectations and in the end this novel just fell flat for me.
The plot was solely focused on jamming in as much fanfiction, vidding, manips, and other fandom related thing into it. The plot went everywhere and did not go into depth about Liv's family life or her father dying, and so I was emotionally disconnected.
The characters seemed to be over the top and overdone, especially those at the convection and it kind of played into the stereotype that fan girls are crazy and obsessed. I'm a fangirl, I get super excited about shows and write fanfic/watch videos but I don't flunk classes or mourn for characters (it would have been better if they actually connected the character with her father dying so that would be a big reason why it hit her so hard), it was very unrealistic.
The romance was blah, I think it would be been so much better if it was just cut out alltogether, Xander was too perfect/over the top and Liv was hard to like.
I understood the majority of the fandom terminology but it seemed to be brought up all the time and it took me out of the novel.
The ending was my least favorite part of the whole thing.
I recommend only checking it out if your into fan fiction or fandom, but even then it was a let down.
My Rating:
2.5 Stars Out of 5