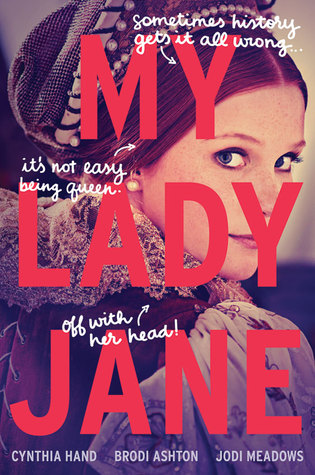 Summary from
Goodreads
:
The comical, fantastical, romantical, (not) entirely true story of Lady Jane Grey. In
My Lady Jane
, coauthors Cynthia Hand, Brodi Ashton, and Jodi Meadows have created a one-of-a-kind fantasy in the tradition of
The Princess Bride
, featuring a reluctant king, an even more reluctant queen, a noble steed, and only a passing resemblance to actual history—because sometimes history needs a little help.
At sixteen, Lady Jane Grey is about to be married off to a stranger and caught up in a conspiracy to rob her cousin, King Edward, of his throne. But those trifling problems aren't for Jane to worry about. Jane gets to be Queen of England.
My Review:
I got huge The Princess Bride and Monty Python vibes with the humor mixed with historical fiction.
The plot was super strange, mixing English history with fantasy where people turn into animals and are prosecuted for it (kind of swapping out Protestants during this period).
The first half of the novel had a better mix of the what actually happened to Jane Gray (expect Edward being still alive) and the various players who were trying to get the throne. And then the second half changed history but was still really good.
The romances in the novel were my favorite aspect, there were two couples and I'm pretty happy that I liked both of them. :)
I really enjoyed the cultural and also some pop culture references throw throughout the novel, one of them was about the Red Wedding from Game of Thrones and made laugh so much.
I recommend this if you enjoy strange but hugely funny novels. :)
My Rating:
4 Stars Out of 5