Summary from Goodreads: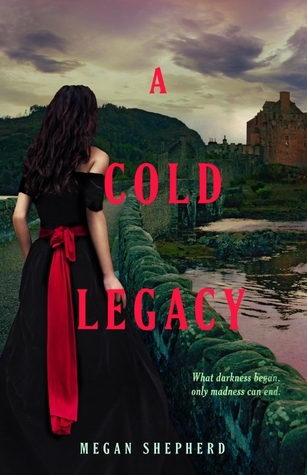 After killing the men who tried to steal her father's research, Juliet—along with Montgomery, Lucy, Balthazar, and a deathly ill Edward—has escaped to a remote estate on the Scottish moors. Owned by the enigmatic Elizabeth von Stein, the mansion is full of mysteries and unexplained oddities: dead bodies in the basement, secret passages, and fortune-tellers who seem to know Juliet's secrets. Though it appears to be a safe haven, Juliet fears new dangers may be present within the manor's own walls.

Then Juliet uncovers the truth about the manor's long history of scientific experimentation—and her own intended role in it—forcing her to determine where the line falls between right and wrong, life and death, magic and science, and promises and secrets. And she must decide if she'll follow her father's dark footsteps or her mother's tragic ones, or whether she'll make her own.

With inspiration from Mary Shelley's Frankenstein, this breathless conclusion to the Madman's Daughter trilogy is about the things we'll sacrifice to save those we love—even our own humanity.
My Review:
It took me forever but I finally finished the
Madman's Daughter
trilogy and it was a great read. It has to be one of my favorite YA gothic novels, a genre that has limited choices. I was prompted to finish it because I'm enjoying Shepherds new alien/sci fi series.
I loved the infusion of various Gothic novels like
Jekyll and Hyde
,
Frankenstein
, and
The Island of Dr. Moreau, and how each of the novels focuses on one of them.
I've read all of them expect The Island of Dr. Moreau but I hope to change that soon.
I was able to connect with Juliet again and enjoyed some of the old and new secondary characters in the series, like Edward/Beast and Balthazar.
The ending was good but I wanted a different ending for our heroine, and possibly a different love interest.
I recommend checking out this series if you enjoy retellings/eerie storytelling.
My Rating:
4 Out of 5 Stars