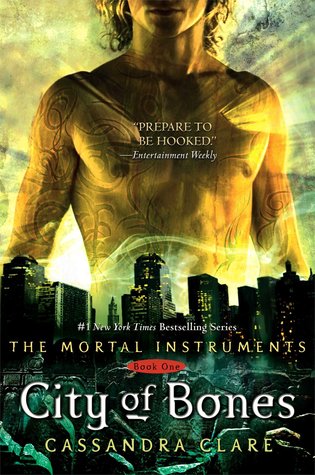 Summary from Goodreads:
When fifteen-year-old Clary Fray heads out to the Pandemonium Club in New York City, she hardly expects to witness a murder― much less a murder committed by three teenagers covered with strange tattoos and brandishing bizarre weapons. Then the body disappears into thin air. It's hard to call the police when the murderers are invisible to everyone else and when there is nothing―not even a smear of blood―to show that a boy has died. Or was he a boy?

This is Clary's first meeting with the Shadowhunters, warriors dedicated to ridding the earth of demons. It's also her first encounter with Jace, a Shadowhunter who looks a little like an angel and acts a lot like a jerk. Within twenty-four hours Clary is pulled into Jace's world with a vengeance, when her mother disappears and Clary herself is attacked by a demon. But why would demons be interested in ordinary mundanes like Clary and her mother? And how did Clary suddenly get the Sight? The Shadowhunters would like to know...

Exotic and gritty, exhilarating and utterly gripping, Cassandra Clare's ferociously entertaining fantasy takes readers on a wild ride that they will never want to end.
My Review:
It has been a long time coming but I'm finally going to finish The Mortal Instruments series, I started it when I was junior high and stopped at book 4. My goal is to catch up to the newest series by the time the Magnus Bane novels come out!
I had a hard time making myself pick the first book up because I've read it too many times and seen bad movie/tv shows of the plot over and over again but I finally did it. I adored the Internal Devices series but I was never a big fan of this one, however, I hope that changes as I reread it.
My main problem is that I do not connect with Clary as the main character (while I adored Tessa) or the Jace as her love interest. So, I'm reading this mainly to get to the next series and for Simon. I'm also watching the TV show, even if I'm not a huge fan for Alec (love him and also for Alec/Magnus) and Simon! :)
I forgot how much I adore the side characters, mainly Simon and Alec (even if he was a bit of a jerk in this one) and they are my main reason for finishing this series! :)
My Rating:
3 Stars Out of 5