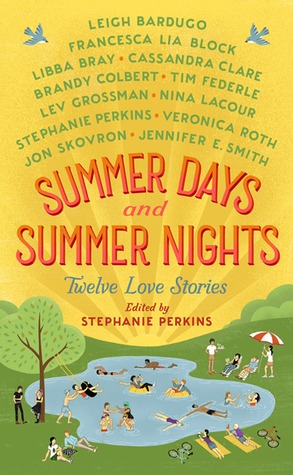 Summary from Goodreads:
Maybe it's the long, lazy days, or maybe it's the heat making everyone a little bit crazy. Whatever the reason, summer is the perfect time for love to bloom.
Summer Days & Summer Nights: Twelve Love Stories
, written by twelve bestselling young adult writers and edited by the international bestselling author Stephanie Perkins, will have you dreaming of sunset strolls by the lake. So set out your beach chair and grab your sunglasses. You have twelve reasons this summer to soak up the sun and fall in love.
Featuring stories by Leigh Bardugo, Francesca Lia Block, Libba Bray, Cassandra Clare, Brandy Colbert, Tim Federle, Lev Grossman, Nina LaCour, Stephanie Perkins, Veronica Roth, Jon Skovron, and Jennifer E. Smith.
My Review:
The collection of YA love stories were okay, not the best but not bad. A majority of the tales fell flat for me but it was still a quick/fun read (even if I did rush it a bit so I could read
The Raven King
, lol).
My Ratings for the Short Stories:
Heads, scales, Tongues, Tail
-
Leigh Bardugo -
3 Stars.
The End of Love
- Nina Labour - 5 Stars. I really connected with the main character I did not want the story to end.
Last Stand at the Cinegor
- Libba Bray - 3 Stars. - Way too much going and confusing.
Sick Pleasure
- Francesca Lia Block - 3 Stars
In Ninety Minutes, Turn North -
Stephanie Perkins - 4 Stars - Pretty cute. :)
Souvenirs
- Tim Federle - 4 Stars. I enjoyed this and will look out for books by the author.
Inertia
- Veronica Roth - 5 Stars. It did not really fit with theme but I loved it.
Love is the Last Resort
(Jon Skovron) - 5 Stars.
Good Luck and Farewell
(Brandy Colbert) - 3 Stars.
Brand New Attraction
(Cassie Clare) - 5 Stars.
A Thousand Ways This Could All Go Wrong
-Jennifer E. Smith 3 Stars.
The Map of Tiny Perfect Things -
Lev Grossman -
3 Stars.
The best thing I got out of this collection was
The End Of Love
by Nina LaCour, I adored her short story and really connected with it.
I recommend checking out this collection if you like any of the authors.
My Rating:
Three Stars Out of Five