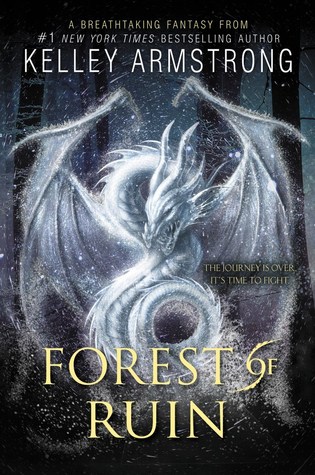 Summary from Goodreads:
In a world at war, who can you trust?

The empire rests on the edge of a knife, and sisters Ashyn and Moria are the handle and the blade. Desperate to outmaneuver the evil Alvar Kitsune, whose hold on the people grows stronger every day, Emperor Tatsu begs Moria to put aside past grievances and ally with Gavril—at least long enough to make an attempt on Alvar's life. Meanwhile, reunited with her long-lost grandfather, Ashyn discovers that she is the key to a ritual that could reawaken an ancient dragon and turn the tide of the coming battle in their favor.

But with lies and betrayal lurking around every corner, Ashyn and Moria will have to decide once and for all where their allegiances are. And it may not be where their hearts would lead them…

In this breathtaking final book in her epic trilogy the Age of Legends, #1 New York Times bestselling author Kelley Armstrong blends fantasy, action, and romance to give readers the unforgettable ending they've been waiting for.
My Review:
I was worried that the author would bring in a love triangle but thankfully that did not happen, there was actually a boy/girl friendship without romance which something you do not tend to see in YA.
I loved the main characters, Moria and Ashlyn (and was glad that Ashlyn played a bigger part in this novel) and the side ones, Tyrus, Ronan, and Gavril plus the animals. :)
The ending was okay, I liked how the relationships ended up but I wanted a bit more action or magical elements.
I recommend checking out this series for the great characters and world building.
My Rating:
Four Stars Out Of Five