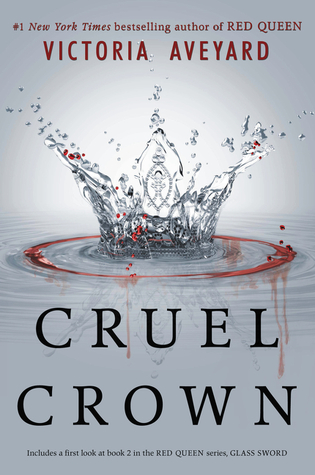 Summary from Goodreads:
Two women on either side of the Silver and Red divide tell the stories no one else knows.

Discover the truth of Norta's bloody past in these two revealing prequels to #1 New York Times bestseller Red Queen.

Queen Song

Queen Coriane, first wife of King Tiberias, keeps a secret diary—how else can she ensure that no one at the palace will use her thoughts against her? Coriane recounts her heady courtship with the crown prince, the birth of a new prince, Cal, and the potentially deadly challenges that lay ahead for her in royal life.

Steel Scars

Diana Farley was raised to be strong, but being tasked with planting the seeds of rebellion in Norta is a tougher job than expected. As she travels the land recruiting black market traders, smugglers, and extremists for her first attempt at an attack on the capital, she stumbles upon a connection that may prove to be the key to the entire operation—Mare Barrow.

Plus a Glass Sword sneak peek!

An exclusive excerpt of the hotly anticipated second book in the Red Queen series, Glass Sword, transports readers to the world of Silver tyranny, a Red dawn rising, and one girl's resolve to break down the system that will hold her back no longer.
My Review:
I love the fact that publishing companies are putting short stories related to YA series into print collections so I tend to wait to read them until them, an example that I loved was Stars Above by Marissa Meyer.
However, I think they should have waited until there were more stories because it only had two stories, 134 pages, and then the rest was a long preview of Glass Sword.
I really liked the first short story,
Queen Song
, that lets the reader get a look at the first queen, mother of Cal, but I felt that it could have been so much longer and not as rushed. I would have read a whole prequel novel about Coriane, her characterization and point of view were done well.
It is pretty much the opposite with
Steel Scars
about Farley, I like Farley but the story/format of it was hard to follow and too long. I had a hard time connecting with and finishing it.
I recommend checking it out if you are a fan of the Red Queen Series.
My Rating:
Three Stars