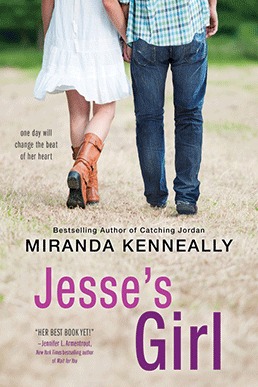 Summary from
Goodreads
:
Everyone at Hundred Oaks High knows that career mentoring day is a joke. So when Maya Henry said she wanted to be a rock star, she never imagined she'd get to shadow *the* Jesse Scott, Nashville's teen idol.

But spending the day with Jesse is far from a dream come true. He's as gorgeous as his music, but seeing all that he's accomplished is just a reminder of everything Maya's lost: her trust, her boyfriend, their band, and any chance to play the music she craves. Not to mention that Jesse's pushy and opinionated. He made it on his own, and he thinks Maya's playing back up to other people's dreams. Does she have what it takes to follow her heart—and go solo?
My Review:
I picked up this book for the read-a-thon because it only took me two sitting to get through. It was nice, somewhat funny, fluffy romance.
I've read all of the Hundred Oaks books, and Catching Jorden is still my favorite, so it was fun that Jorden was in this one (because Maya is Sam's sister).
I wasn't a big fan of the plot, but I did enjoy the main character Maya (and the side characters like Sam and Jorden), and I was not a big fan of Jesse. The music element was an interesting change from her other novels.
I recommend picking this one up if you enjoy her novels or want a quick and fun read.
My Rating:
Three Stars Out of Five.