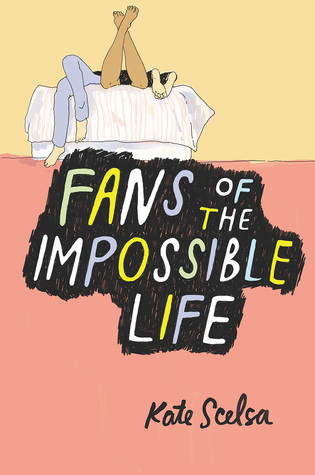 Summary from Goodreads:
A captivating and profound debut novel about complicated love and the friendships that have the power to transform you forever, perfect for fans of The Perks of Being a Wallflower.
Mira is starting over at Saint Francis Prep. She promised her parents she would at least try to pretend that she could act like a functioning human this time, not a girl who can't get out of bed for days on end, who only feels awake when she's with Sebby.
Jeremy is the painfully shy art nerd at Saint Francis who's been in self-imposed isolation after an incident that ruined his last year of school. When he sees Sebby for the first time across the school lawn, it's as if he's been expecting this blond, lanky boy with mischief glinting in his eye.
Sebby, Mira's gay best friend, is a boy who seems to carry sunlight around with him. Even as life in his foster home starts to take its toll, Sebby and Mira together craft a world of magic rituals and impromptu road trips, designed to fix the broken parts of their lives.
As Jeremy finds himself drawn into Sebby and Mira's world, he begins to understand the secrets that they hide in order to protect themselves, to keep each other safe from those who don't understand their quest to live for the impossible.
My Review:
I randomly picked up the ARC of this September 15 release at my university library and enjoyed it quite a bit.
I'm not a huge fan of multiple POVS (mainly because they are overused) but this debut did a great job writing great characters that did not have the same personalities.
My favorite character was Jeremy, but it was hard to just pick one of them, each had a unique story and character development. I loved the fact that the author tackled a lot of hard subjects like mental illness, diverse characters, and her writing was amazing.
I recommend checking out this new author.
My Rating:
Four Stars Out of Five.