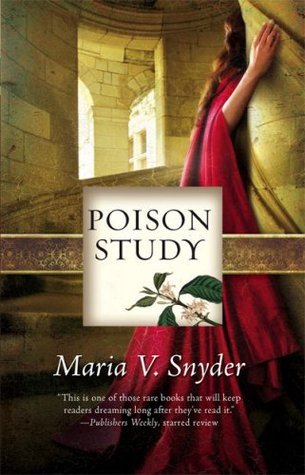 Summary from Goodreads:
Choose: A quick death…Or slow poison...

About to be executed for murder, Yelena is offered an extraordinary reprieve. She'll eat the best meals, have rooms in the palace—and risk assassination by anyone trying to kill the Commander of Ixia.

And so Yelena chooses to become a food taster. But the chief of security, leaving nothing to chance, deliberately feeds her Butterfly's Dust—and only by appearing for her daily antidote will she delay an agonizing death from the poison.

As Yelena tries to escape her new dilemma, disasters keep mounting. Rebels plot to seize Ixia and Yelena develops magical powers she can't control. Her life is threatened again and choices must be made. But this time the outcomes aren't so clear...
My Review:
I've been meaning to finally start this fantasy series for a while and finally finished the first novel (and have the second ready to go).
I loved the main character Yelena, as the novel goes on you see her strength because of the horrible things she has been through and still she is still going. I would have loved more fantasy elements, more magic, I hope the second book delivers on that front. And the world building did not really happen, but it does look like it will in the next two books.
It is a slow novel, but as it goes on the action builds up and the character development is very well done.
The romance did not overtake the novel, it was subtle and amazing.
I recommend checking out this series.
My Rating:
Four Stars Out of Five