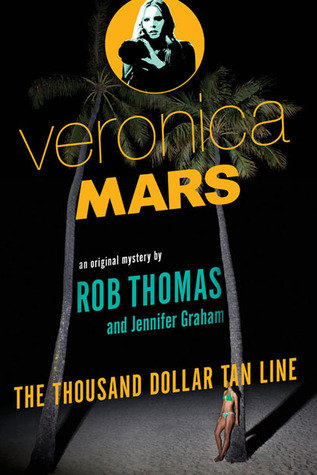 Summary from Goodreads:
Ten years after graduating from high school in Neptune, California, Veronica Mars is back in the land of sun, sand, crime, and corruption. She's traded in her law degree for her old private investigating license, struggling to keep Mars Investigations afloat on the scant cash earned by catching cheating spouses until she can score her first big case.
Now it's spring break, and college students descend on Neptune, transforming the beaches and boardwalks into a frenzied, week-long rave. When a girl disappears from a party, Veronica is called in to investigate. But this is not a simple missing person's case. The house the girl vanished from belongs to a man with serious criminal ties, and soon Veronica is plunged into a dangerous underworld of drugs and organized crime. And when a major break in the investigation has a shocking connection to Veronica's past, the case hits closer to home than she ever imagined.
My Review:
I've been a fan of the Veronica Mars show since I was in junior high and the fact that it gets to live on in book form is amazing. I should have read this book a long time ago but I just haven't had the chance (but now I also have book two to read as well).
The book was only around 200 or so pages (which was the sad part) and I flew through it in a few hours.They follow the movie that came out earlier this year (and I saw in the theater and now own) but this time we get an adult Veronica with adult cases (but in the show she did handle some heavy stuff as well). Plus we get to see characters from the show and see how they have been over the last ten years.
I recommend checking this out if you are a fan of the show, but make sure to watch the movie first. Rob Thomas does a great job giving us the sassy badass Veronica we love and I hope the books keep coming out. :)
My Rating:
Five Stars Out of Five