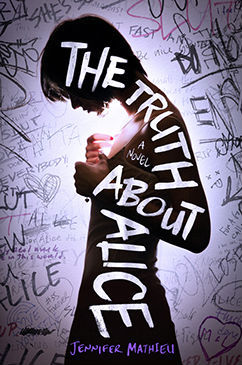 Summary from Goodreads:
Everyone knows Alice slept with two guys at one party.
But did you know Alice was sexting Brandon when he crashed his car?
It's true. Ask ANYBODY.
Rumor has it that Alice Franklin is a slut. It's written all over the bathroom stall at Healy High for everyone to see. And after star quarterback Brandon Fitzsimmons dies in a car accident, the rumors start to spiral out of control.
In this remarkable debut novel, four Healy High students—the girl who has the infamous party, the car accident survivor, the former best friend, and the boy next door—tell all they know.
But exactly what is the truth about Alice? In the end there's only one person to ask: Alice herself.
My Review:
This was a hard read for me, mainly because of the topic, and I did not like it has much as I wanted to. The main reason behind that is because I only liked two characters in the novel, Alice (duh) and Kurt and they did not get enough chapters (Alice only got one).
And the other three characters, yep another duel POV book (it would have been better without that at all), were the bullies and it was hard to read their POVS. I almost rage quit, but since it was only 199 pages I managed to finish it.
I'm not a huge fan of the trend of showing the bully's side, but I would have been able to handle it if Alice had more chapters.
I recommend it, because she is a great writer if you get past the mean characters.
My Rating:
Three Out of Five Stars