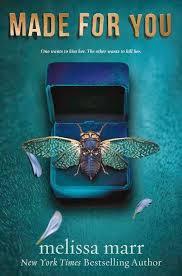 Summary from Goodreads:
When Eva Tilling wakes up in the hospital, she's confused—who in her sleepy little North Carolina town could have hit her with their car? And why? But before she can consider the question, she finds that she's awoken with a strange new skill: the ability to foresee people's deaths when they touch her. While she is recovering from the hit-and-run, Nate, an old flame, reappears, and the two must traverse their rocky past as they figure out how to use Eva's power to keep her friends—and themselves—alive. But while Eva and Nate grow closer, the killer grows increasingly frantic in his attempt to get to Eva.
My Review:
I hope that Marr continues you write thrillers or even contemporary fiction because I really enjoyed this novel.
Some parts were a little slow, however, every time the chapters with the psycho came it cranked up the suspense. The visions of death that Eva gets worked well with the plot and I liked how her powers were not pushed over the top. Those 'Judge' chapters from the POV of the killer wigged me out big time, I even had to put it down for a bit.
I enjoyed the Judge and Eva chapters, the Grace ones were okay but I don't think they really impacted the plot very much.
I recommend checking out this thriller the twists will keep you guessing until the end.
My Rating:
Five Out of Five Stars