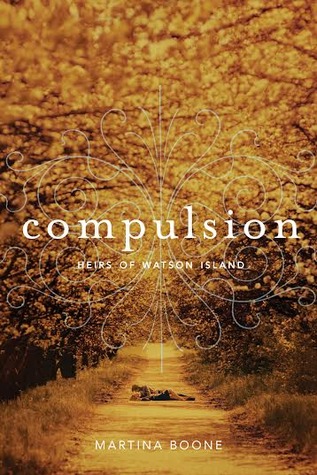 Summary from Goodreads:
Three plantations. Two wishes. One ancient curse.
All her life, Barrie Watson has been a virtual prisoner in the house where she lives with her shut-in mother. When her mother dies, Barrie promises to put some mileage on her stiletto heels. But she finds a new kind of prison at her aunt's South Carolina plantation instead--a prison guarded by an ancient spirit who long ago cursed one of the three founding families of Watson Island and gave the others magical gifts that became compulsions.
Stuck with the ghosts of a generations-old feud and hunted by forces she cannot see, Barrie must find a way to break free of the family legacy. With the help of sun-kissed Eight Beaufort, who knows what Barrie wants before she knows herself, the last Watson heir starts to unravel her family's twisted secrets. What she finds is dangerous: a love she never expected, a river that turns to fire at midnight, a gorgeous cousin who isn't what she seems, and very real enemies who want both Eight and Barrie dead.
My Review:
I'm a sucker for Gothic novels (and if they are southern I will always pick them up) and this was had all of the elements I like. And I loved how this novel was able to mix in powers (like knowing what people want or finding things) and make it seem believable and not over the top.
The pacing of the novel was a little slow, but I think it helped build up the atmosphere and connect to the characters. I was going to give it four stars but I enjoyed this novel so much, and loved Barrie, that I had to go with five stars. Plus the ending gave some answers but also made me want the second book right now (it is coming on Fall 2015). Plus I could not put it down and powered through page 160 to the end.
The last 50 or so pages!
I recommend checking this novel out if you enjoy Gothic settings and great character development.
My Rating:
Five Stars Out of Five