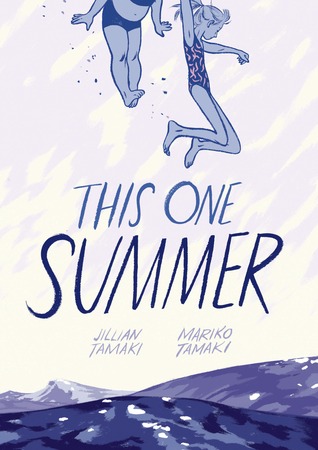 Summary from Goodreads:
Every summer, Rose goes with her mom and dad to a lake house in Awago Beach. It's their getaway, their refuge. Rosie's friend Windy is always there, too, like the little sister she never had. But this summer is different. Rose's mom and dad won't stop fighting, and when Rose and Windy seek a distraction from the drama, they find themselves with a whole new set of problems. It's a summer of secrets and sorrow and growing up, and it's a good thing Rose and Windy have each other.
In This One Summer two stellar creators redefine the teen graphic novel. Cousins Mariko and Jillian Tamaki, the team behind Skim, have collaborated on this gorgeous, heartbreaking, and ultimately hopeful story about a girl on the cusp of her teen age—a story of renewal and revelation.
My Review:
It is has been a while since I read a graphic novel that was not action based or Marvel, and this was the perfect one to read.
I now understand why everyone was saying to read this one over all of the others out there, it was amazing. The art was beautiful, and I loved that the whole book was one shade of blue, I think that it connected to the story. The story was heart touching and I had a hard time putting it down.
As you read you get sucked into the story and love the characters and by the end your heart is breaking, I loved how the artist/author was able to pull it off.
My Rating:
Four Stars Out of Five