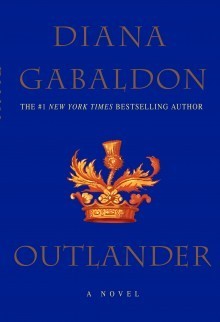 Summary from Goodreads:
Claire Randall is leading a double life. She has a husband in one century, and a lover in another...
In 1945, Claire Randall, a former combat nurse, is back from the war and reunited with her husband on a second honeymoon--when she innocently touches a boulder in one of the ancient stone circles that dot the British Isles. Suddenly she is a Sassenach—an "outlander"—in a Scotland torn by war and raiding border clans in the year of our Lord...1743.
Hurled back in time by forces she cannot understand, Claire's destiny in soon inextricably intertwined with Clan MacKenzie and the forbidden Castle Leoch. She is catapulted without warning into the intrigues of lairds and spies that may threaten her life ...and shatter her heart. For here, James Fraser, a gallant young Scots warrior, shows her a passion so fierce and a love so absolute that Claire becomes a woman torn between fidelity and desire...and between two vastly different men in two irreconcilable lives.
My Review:
My main reason for picking up this book was the new TV show on Starz, I saw the first episode and just knew I wanted to read this book. I had picked it up years ago but did not get into it because the first 50 or pages of the novel drag quite a bit. However, once you get to the main plot of Claire going back to 1743 the book picks up a lot. Plus we lose Frank (her husband) and meet the highlander Jamie who is my favorite character in the book (and in the show).
I listened to the first part of the book in audio book form and that helped me make it through the boring parts. And I read the rest of it with my own physical copy and took my time, reading a chapter or so every night.
The characters and the story grow on you as the novel goes on and the ending is heartbreaking. :(
I recommend checking this series out, but be prepared for a ride because it is 8 or so books long. And I'm already dying to get my hands on the next book. :)
My Rating:
Five Out of Five