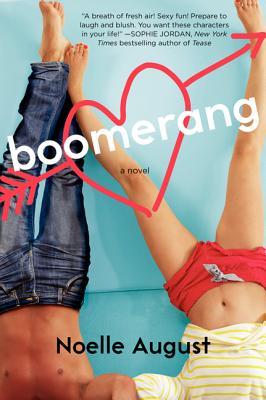 Summary from Goodreads:
Welcome to Boomerang.com, the dating site for the millennial gen with its no-fuss, no-commitments matchups, and where work is steamier than any random hook-up
Mia Galliano is an aspiring filmmaker. Ethan Vance has just played his last game as a collegiate soccer star. They're sharp, hungry for success, and they share a secret.
Last night, Ethan and Mia met at a bar, and, well . . . one thing led to another, which led to them waking up the next morning—together. Things turned awkward in a hurry when they found themselves sharing a post hookup taxi . . . to the same place: Boomerang headquarters.
What began as a powerful connection between them is treated to a cold shower courtesy of two major complications. First, Boomerang has a strict policy against co-worker dating. And second, they're now competitors for only one job at the end of summer.
As their internships come to an end, will they manage to keep their eyes on the future and their hands off each other, or will the pull of attraction put them right back where they started?
My Review:
After reading some intense books over the last month (Knife Edge being the number one intense read of the whole year) I thought a fluffy read was in order before I start reading Halloween novels (Stephen King ones).
I'm a newcomer to New Adult fiction, which is somewhat hard to track down in my local library, but so far I've liked most of the ones I've read. And
Boomerang
was just what I needed at the moment.
Thankfully I loved the two main characters, Ethan and Mia, because without good characters the book usually fails, at least for me. Plus the book had some awesome pop culture references, something I've been missing in a lot of the books I've read lately.
I only disliked a few choices the characters made (but it was just used to drag out the plot until the end of the book) other then that I really enjoyed this light fun read. I can't wait until the next one.
My Rating:
Four Stars Out of Five