"Waiting On" Wednesday is a weekly event hosted by Breaking the Spine, where you pick a book that is coming out soon that you want to read.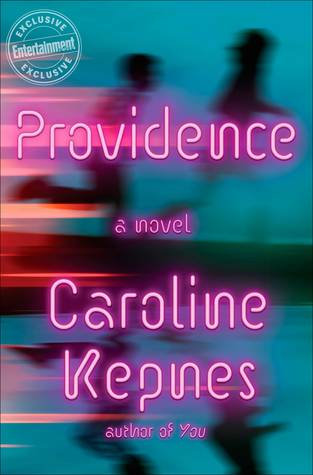 Summary from Goodreads:
A propulsive new thriller about the obsessive nature of love when an intensifying relationship between best friends is disrupted by a kidnapping.
Growing up as best friends in small-town New Hampshire, Jon and Chloe are the only ones who truly understand each other, though they can never find the words to tell one another the depth of their feelings. When Jon is finally ready to confess his feelings, he's suddenly kidnapped by his substitute teacher who is obsessed with H.P. Lovecraft and has a plot to save humanity.
Mourning the disappearance of Jon and facing the reality he may never return, Chloe tries to navigate the rites of entering young adulthood and "fit in" with the popular crowd, but thoughts of Jon are never far away.
When Jon finally escapes, he discovers he now has an uncontrollable power that endangers anyone he has intense feelings for. He runs away to protect Chloe and find the answers to his new identity--but he's soon being tracked by a detective who is fascinated by a series of vigilante killings that appear connected.
Whisking us on a journey through New England and crashing these characters' lives together in the most unexpected ways, Kepnes explores the complex relationship between love and identity, unrequited passion and obsession, self-preservation and self-destruction, and how the lines are often blurred between the two.
Release Date: June 19th 2018
My Notes:
It has been a while since I read You, Kepnes first novel but I was a fan of her writing style. Her latest novel sounds strange and I can't wait to check it out.
Wishlist Wednesday is where you show a book that has been on your wishlist/TBR list for a while, the meme is hosted by Pen to Paper.

Summary from Goodreads:
Lovelace was once merely a ship's artificial intelligence. When she wakes up in an new body, following a total system shut-down and reboot, she has no memory of what came before. As Lovelace learns to negotiate the universe and discover who she is, she makes friends with Pepper, an excitable engineer, who's determined to help her learn and grow.
Together, Pepper and Lovey will discover that no matter how vast space is, two people can fill it together.
The Long Way to a Small, Angry Planet introduced readers to the incredible world of Rosemary Harper, a young woman with a restless soul and secrets to keep. When she joined the crew of the Wayfarer, an intergalactic ship, she got more than she bargained for - and learned to live with, and love, her rag-tag collection of crewmates.
A Closed and Common Orbit is the stand-alone sequel to Becky Chambers' beloved debut novel The Long Way to a Small, Angry Planet and is perfect for fans of Firefly, Joss Whedon, Mass Effect and Star Wars.
My Notes:

I've been meaning to read this since I finished book one! I found out that my library has the audiobook so it will be happening soon!