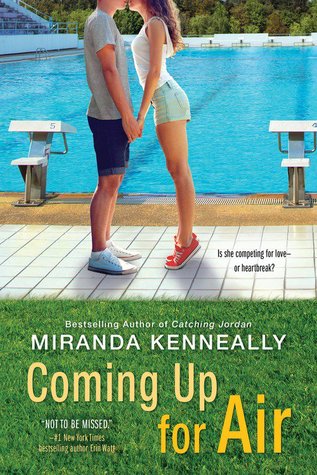 Summary from Goodreads:
Swim. Eat. Shower. School. Snack. Swim. Swim. Swim. Dinner. Homework. Bed. Repeat.
All of Maggie's focus and free time is spent swimming. She's not only striving to earn scholarships—she's training to qualify for the Olympics. It helps that her best friend, Levi, is also on the team and cheers her on. But Levi's already earned an Olympic tryout, so Maggie feels even more pressure to succeed. And it's not until Maggie's away on a college visit that she realizes how much of the "typical" high school experience she's missed by being in the pool.
Not one to shy away from a challenge, Maggie decides to squeeze the most out of her senior year. First up? Making out with a guy. And Levi could be the perfect candidate. After all, they already spend a lot of time together. But as Maggie slowly starts to uncover new feelings for Levi, how much is she willing to sacrifice in the water to win at love?
My Review:
What I Liked:

Relatable Main Character. Despite not liking some of the story line with the main character, Maggie, I found myself relating a lot to the character. She deals with very human emotions, loneliness with feeling like she will never be in love, the feeling that she is not good enough, and fear with driving (something I have to deal with as well). She was the main reason I kept reading even after wanting to put the novel down because of the sexaul content.

Characters. As always I loved Kenneally's ability to craft great and relatable characters, it is the main reason I keep coming back to her novels. Kennaelly did a great job crafting great side characters as well as the main couple.
Romance. Even though I disliked some of the early aspects of the main love interest I found myself warming up to it. By the end of the novel, I was rooting for them and enjoying how the romance played out.

Writing. I usually go toward more poetic writing styles but I also enjoy straight forward ones like Kenneally's, I was able to fly through the book because of the writing.

Swimming. I loved reading about the swimming and Olympic aspects of the plot. I would have liked it more if it covered even more about the swim team.
What I Disliked:

Sexual Content. I was pretty close to DNFing the novel at the 30 percent range because I was extremely uncomfortable in the first half with the overuse of sexual content. I tend to shy away from novels that have an overabundance of sexual content and I was not expecting to find that in a YA novel. However, it did finally ease up in the second half and I was able to keep reading, which was good because I enjoyed the swimming scenes and the main character.

Plot. Parts of the plot were very off putting for me. I won't go into details because of spoilers just know that it has to do with the over the top sexual content in the novel. Some of the story lines had me cringing and I felt that it did not fit with the personality of the main character.
I recommend checking out this contemporary novel if you enjoy Kenneally's writing and characters. It was good but not my favorite from her because of some of the elements of it.
My Rating:
3.5 Stars Out of 5 Stars