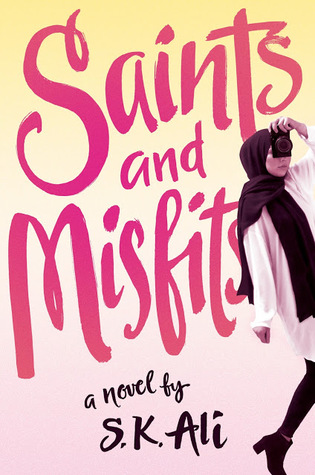 Summary from Goodreads:
Saints and Misfits
is an unforgettable debut novel that feels like a modern day My So-Called Life…starring a Muslim teen.
How much can you tell about a person just by looking at them?
Janna Yusuf knows a lot of people can't figure out what to make of her…an Arab Indian-American hijabi teenager who is a Flannery O'Connor obsessed book nerd, aspiring photographer, and sometime graphic novelist is not exactly easy to put into a box.
And Janna suddenly finds herself caring what people think. Or at least what a certain boy named Jeremy thinks. Not that she would ever date him—Muslim girls don't date. Or they shouldn't date. Or won't? Janna is still working all this out.
While her heart might be leading her in one direction, her mind is spinning in others. She is trying to decide what kind of person she wants to be, and what it means to be a saint, a misfit, or a monster. Except she knows a monster…one who happens to be parading around as a saint…Will she be the one to call him out on it? What will people in her tightknit Muslim community think of her then?
My Review:
What I Liked:

Main Character.
I felt that Janna was an interesting and good main character. She did have some flaws but she is after all a teenager and that comes with intense emotions and sometimes bad choices. However, I felt that she grew as a character throughout the novel and quickly became one of my favorite main characters.
Side Characters.
I adored Janna's family, most of all her brother and mother and how they both were there for her. Plus, her friends were great characters as well who quickly became some of my favorites. :)
Diversity.
The reason I read is to experience different places and cultures. The novel did a great job of representing the mixture of cultures and it was informative for the reader.
Plot/Message.
No spoilers but my favorite aspect of the novel was some of the main message surrounding the importance of family/friends, and finding your voice.
Lack of Romance.
Young adult contemporary fiction has constantly been roped in with romance and sometimes that gets old. I loved the fact that Janna's experiences and relationships were the focus in the novel and romance was not the prominent story line.
What I Disliked:
Pacing.
I struggled with the pacing in the first half but it did pick up in the last section.
Sentence structure.
I'm by no means a professional editor or novelists but I did notice in the beginning there was some choppy sentences that threw off the flow. I have a hard time not noticing awkward sentences.
I recommend checking this novel out, it was a great contemporary and representation of diversity within the YA genre.
My Rating:
5 Stars Out of 5 Stars