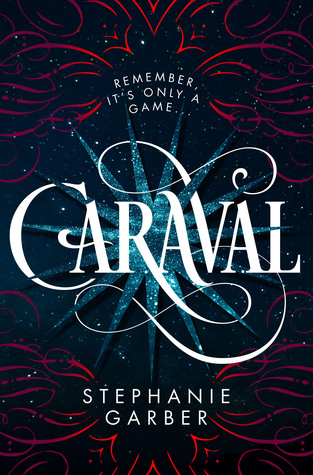 Summary from Goodreads:
Remember, it's only a game…
Scarlett Dragna has never left the tiny island where she and her sister, Tella, live with their powerful, and cruel, father. Now Scarlett's father has arranged a marriage for her, and Scarlett thinks her dreams of seeing Caraval—the faraway, once-a-year performance where the audience participates in the show—are over.
But this year, Scarlett's long-dreamt-of invitation finally arrives. With the help of a mysterious sailor, Tella whisks Scarlett away to the show. Only, as soon as they arrive, Tella is kidnapped by Caraval's mastermind organizer, Legend. It turns out that this season's Caraval revolves around Tella, and whoever finds her first is the winner.
Scarlett has been told that everything that happens during Caraval is only an elaborate performance. Nevertheless she becomes enmeshed in a game of love, heartbreak, and magic. And whether Caraval is real or not, Scarlett must find Tella before the five nights of the game are over or a dangerous domino effect of consequences will be set off, and her beloved sister will disappear forever.
Welcome, welcome to Caraval…beware of getting swept too far away.
My Review:
What I Liked:
Writing.
I listened to the novel on audiobook and finished up the last half in print and Garber's writing was magical. I adored the way she described the Caraval and Scarlett's inner thoughts.
Quote:
"She remembered thinking falling for him would be like falling in love with darkness, but now she imagined he was more like a starry night: the constellations were always there, constant, magnificent guides against the ever-present black."
― Stephanie Garber,
Caraval
Characters.
I had some moments of
Don't make that stupid decision Scarlett
in the novel but overall she was a relatable and interesting main character. The side-characters were interesting too but there were some characters I did not like, Tella, and others.
Plot.
I picked up the novel based on hype and the strange plot. I adore unique ideas/plots because they are hard to come by. It gave me some labyrinth vibes but mainly it was something unquie and different from a lot of YA fantasy.
What I Disliked:
Romance.
I felt that the big focus on the romance took away from the main plot and the two aspects were unbalanced in my opinion. However, I did like the couple and Julian was a good main love interest. I was interested in the fantasy aspect over the romance.
Plus, overall, I would have loved to experience more magical aspects of Caraval and had less relationship drama and romance.
I recommend checking out this new fantasy novel, the writing was amazing and the characters were well done.
My Rating:
4 Stars Out of 5 Stars