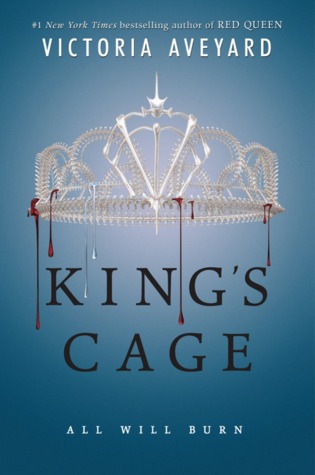 Summary from Goodreads:
In this breathless third installment to Victoria Aveyard's bestselling Red Queen series, allegiances are tested on every side. And when the Lightning Girl's spark is gone, who will light the way for the rebellion?
Mare Barrow is a prisoner, powerless without her lightning, tormented by her lethal mistakes. She lives at the mercy of a boy she once loved, a boy made of lies and betrayal. Now a king, Maven Calore continues weaving his dead mother's web in an attempt to maintain control over his country—and his prisoner.
As Mare bears the weight of Silent Stone in the palace, her once-ragtag band of newbloods and Reds continue organizing, training, and expanding. They prepare for war, no longer able to linger in the shadows. And Cal, the exiled prince with his own claim on Mare's heart, will stop at nothing to bring her back.
When blood turns on blood, and ability on ability, there may be no one left to put out the fire—leaving Norta as Mare knows it to burn all the way down.
My Review:
What I Liked:
Writing.
I enjoy Aveyard's writing style and love reading her prose. Even if I dislike some aspects of her novels like point of view I will still read them because of the writing.
Characters.
The main thing I like about the
Red Queen
series and Aveyard's writing is her characters. The best character in this book was Maven, she did a great job of creating a great three-dimensional villain.
Powers
. I love the different types of powers but I would have liked to see even more of them. I do think that the world-building was ten times better in this novel than the second one.
What I Disliked:
Pacing.
I had a similar complaint with the second book because at parts of the novel it was hard to get through. It did not need to be over 500 pages and about 50 pages from the end I felt like it could have ended a lot earlier.
Plot.
I'm glad that the plot picked up in the third novel because the second one seemed to drag. And now I'm intrigued to see how the fourth and final novel finishes up the story.
Point of View.
My favorite point of view was Mare's and I was able to fly through her chapters.
However, I believe the novel should have been only from the point of view of Mare (or even Maven or Cal) because the chapters with Cameron's point of view were not as compelling as the others.
I recommend checking out this series, the second book was my least favorite in the series but it is starting to get better.
My Rating:
3.5 Stars Out of 5 Stars