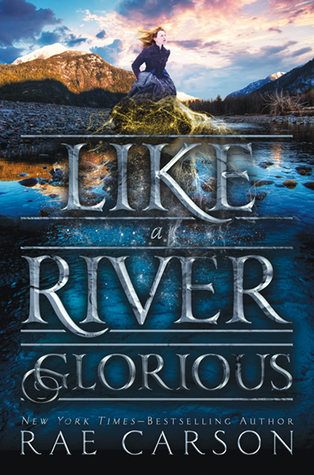 Summary from Goodreads:
He will never stop hunting me down. I have to end him, and soon.

Lee Westfall survived the dangerous journey to California. She found a new family in the other outcasts of their wagon train, and Jefferson, her best friend, is beginning to woo her shamelessly. Now they have a real home—one rich in gold, thanks to Lee's magical ability to sense the precious metal in the world around her.

But Lee's Uncle Hiram has survived his own journey west. He's already murdered her parents, and he will do anything to have Lee and her talents under his control. No one is safe. When he kidnaps her, she sees firsthand the depths of his depravity.

Lee's magic is changing, though. It is growing. The gold no longer simply sings to her—it listens. It obeys her call. Will that alone be enough to destroy her uncle?
My Review:
I was not expecting much from this sequel because the first novel was just okay read for me. I had to push myself to read this one (I won an ARC from Goodreads) because I was not expecting it to keep my interest. However, the sequel to Walk on Earth a Stranger is by far my favorite read in the last two months.
What I Loved:
The fantasy element. Lee's powers begin to develop in this edition of the series and those scenes were trilling and magical. The magic elements were done perfectly
The characters. Carson does an amazing job developing main and side characters (JEFFERSON I LOVE YOU), she has you rooting for all the settlers to succeed. I adored the growing relationship between all the settlers and Lee, and most of the main message of non-blood family. :) It was heartwarming.
The action and the unique plot kept me riveted, most of all in the last half of the novel, I felt like the plot was finally developing and moving along compared to the first novel.
The only downside to my reading experience was the pacing of the first half of the novel. I had the same struggles with the first novel in the series because it felt like I was waiting for the plot/action to pick up. However, about halfway through the action picked up and I was able to fly through the rest of it.
My emotions were a complete wreak by the end (and I want the last book so badly!) because I grew to love the characters and the intense action scenes had me binge reading the last half of the novel.
I recommend checking out this series, it is amazing mixture of the historical and fantasy genres.
My Rating:
4.5 Stars Out of 5 Stars