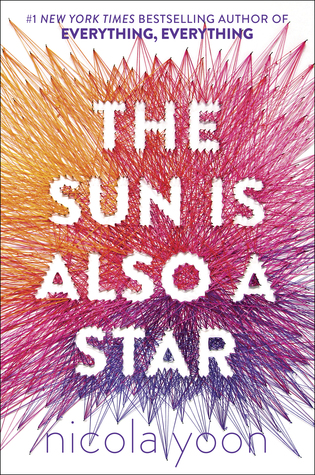 Summary from Goodreads:
Natasha: I'm a girl who believes in science and facts. Not fate. Not destiny. Or dreams that will never come true. I'm definitely not the kind of girl who meets a cute boy on a crowded New York City street and falls in love with him. Not when my family is twelve hours away from being deported to Jamaica. Falling in love with him won't be my story.
Daniel: I've always been the good son, the good student, living up to my parents' high expectations. Never the poet. Or the dreamer. But when I see her, I forget about all that. Something about Natasha makes me think that fate has something much more extraordinary in store—for both of us.
The Universe: Every moment in our lives has brought us to this single moment. A million futures lie before us. Which one will come true?
My Review:
I've been in the mood for contemporary YA and Yoon's second novel hit the spot!!!
The characters! I'm not a huge fan of duel POVS but I felt like the novel pulled it off, I was able to tell them apart because their voices were unique. I also enjoyed the departures from main characters povs to the people they meet during the day and their families. I don't have a favorite because I connected with both Natasha and Daniel, their personalities really made the book.
The plot. I had low expectations about the plot when I first started because the blurb sounded generic. However, as I dove into the story it was very unique (like her first novel) because of the characters and their backgrounds.
The writing and material. The book is full of educational aspects that are woven in a way that makes them fun to learn (I will bed recommending this to my young cousin) and showcases the passion behind learning. :) As always Yoon's writing was beautiful and 384 pages went quickly. Plus, the fact that the novel looks at the American Dream, racism, and the journey of immigrating to a new country was eye opening and important.
What Else I Wanted From It:
I 100% wish that it was longer. The ending gives me some hope that we could possibly hear from these characters again and I would love that! I wanted more time with Natasha and Daniel and I think it could been 100 more pages.
I recommend checking Yoon's amazing characters and beautiful writing!
My Rating:
5 Stars Out of 5 Stars