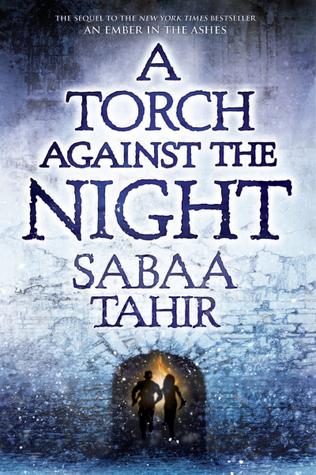 Summary from Goodreads:
Elias and Laia are running for their lives. After the events of the Fourth Trial, Martial soldiers hunt the two fugitives as they flee the city of Serra and undertake a perilous journey through the heart of the Empire.
Laia is determined to break into Kauf—the Empire's most secure and dangerous prison—to save her brother, who is the key to the Scholars' survival. And Elias is determined to help Laia succeed, even if it means giving up his last chance at freedom.
But dark forces, human and otherworldly, work against Laia and Elias. The pair must fight every step of the way to outsmart their enemies: the bloodthirsty Emperor Marcus, the merciless Commandant, the sadistic Warden of Kauf, and, most heartbreaking of all, Helene—Elias's former friend and the Empire's newest Blood Shrike.
Bound to Marcus's will, Helene faces a torturous mission of her own—one that might destroy her: find the traitor Elias Veturius and the Scholar slave who helped him escape…and kill them both.
My Review:
I stumbled upon the first book when it first came out last year as an ARC. It was denfinally a cover read but it turned out to be a great and fantastic read.
I've noticed a recent trend in YA fantasy: the page length keeps going up and up throughout a series (look at Sarah J. Maas). It was refreshing to read a fantasy that is less than 500 pages and it did not suffer because of it.
I think the pacing of the novel, and some of the drawn out plot points, made the second one not as great as the first one. However, it was still an amazing fantasy that kept me reading until the end.
The main aspect I liked was the characters, I feel back into the world with Laia, Elias, and Helene (she was my favorite out of all of them) and enjoyed all of their point of views.
The world building was not as strong in the second novel but it was still an interesting world that I hope will be expanded on in the next novel.
The pacing of the novel completely picked up by the end and the cliffhangers were shocking and almost made me cry. It will be hard to wait until the next one.
I recommend checking out this great fantasy series, the characters and the world building is amazing!
My Rating:
4.5 Stars Out of 5