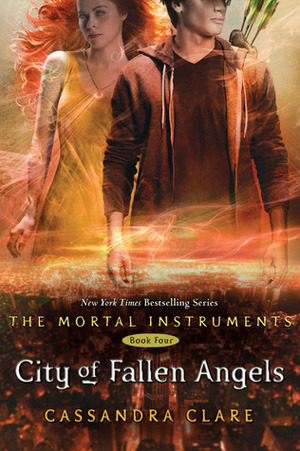 Summary from Goodreads:
The Mortal War is over, and sixteen-year-old Clary Fray is back home in New York, excited about all the possibilities before her. She's training to become a Shadowhunter and to use her unique power. Her mother is getting married to the love of her life. Downworlders and Shadowhunters are at peace at last. And—most importantly of all—she can finally call Jace her boyfriend.

But nothing comes without a price.

Someone is murdering Shadowhunters, provoking tensions between Downworlders and Shadowhunters that could lead to a second, bloody war. Clary's best friend, Simon, can't help her—his mother just found out that he's a vampire, and now he's homeless. When Jace begins to pull away from her without explaining why, Clary is forced to delve into the heart of a mystery whose solution reveals her worst nightmare: she herself has set in motion a terrible chain of events that could lead to her losing everything she loves. Even Jace.
My Review:
I'm now caught up in rereading because I have not read books five or six in the Mortal Instruments Series. It was easier to get into the fourth book in the series because I barely remembered what happened (I might have skim read it in high school) and that made it thrilling and go faster.
Pros:
The pacing and the page length were a lot better compared to the third book. (however, it looks like books five and six are pretty long, :P)
SIMON!!!! I'm seriously considering watching the Shadowhunters TV show just for Simon (his acting is pretty good) and Magnus Bane.
Alec and Magnus! :) I adore this ship and I can't wait to read the Bane Chronicles.
The connection with the Infernal Devices Series, even if only talked about Will. It is still in my eyes the better series because of Tessa.
The side story with Maia, Isabelle, and Simon was one of the main reasons I kept reading, but a new character that I won't spoil.
I found a new reason to keep reading until the end of the series, the side characters! I'm not huge fan of the main romance but I don't mind reading 5 and 6 just for the side characters romances. :)
The plot was interesting and it kept me reading to see what would happen next. Plus, the cliffhanger was awesome.

Cons:
The POV of Clary still bugs me because of her choices and her remarks but it seemed toned down in this installment.
I had a hard time following some of the plot points and story lines because of the structure.
The romance was still overdone in my opinion, I could do without the sweeping love statements (mainly because in the first book it started off as instant love) and it looks like every book will focus on the love story. I would rather focus on the other characters or have Clary or Jace interacting more with friends/family.
I recommend checking out the fourth installment in the series because of focus on characters besides Clary and Jace, and for the interesting plot. I'm glad I decided to keep reading.
My Rating:
3.5 Stars Out of 5