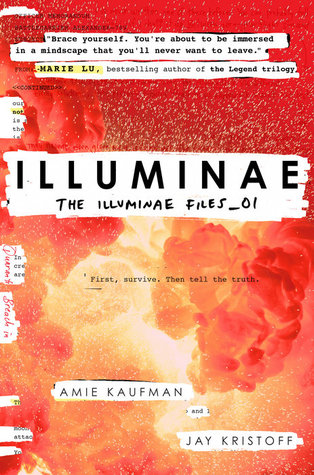 Summary from Goodreads:
This morning, Kady thought breaking up with Ezra was the hardest thing she'd have to do.
This afternoon, her planet was invaded.
The year is 2575, and two rival megacorporations are at war over a planet that's little more than an ice-covered speck at the edge of the universe. Too bad nobody thought to warn the people living on it. With enemy fire raining down on them, Kady and Ezra—who are barely even talking to each other—are forced to fight their way onto an evacuating fleet, with an enemy warship in hot pursuit.
But their problems are just getting started. A deadly plague has broken out and is mutating, with terrifying results; the fleet's AI, which should be protecting them, may actually be their enemy; and nobody in charge will say what's really going on. As Kady hacks into a tangled web of data to find the truth, it's clear only one person can help her bring it all to light: the ex-boyfriend she
swore
she'd never speak to again.
Told through a fascinating dossier of hacked documents—including emails, schematics, military files, IMs, medical reports, interviews, and more—
Illuminae
is the first book in a heart-stopping, high-octane trilogy about lives interrupted, the price of truth, and the courage of everyday heroes
My Review:
I've put off starting this series because of the format, I'm not a fan of chat speak or doc style of novels and that was my main problem with this novel. I had a hard time getting into the story line, it did not help that it was science fiction along with the confusing format, because of the format. I might be alone in this but I've never enjoyed the chat room formats in any of my novels.
The format aspects I did enjoy: The poetic style of writing from inside the AI and some of the artistic pages.
The plot itself was great and I would have been engaged and loving it if the use of the chat rooms, with really bad spelling (I hate that stereotype) had not been used to much.
I enjoyed the characters, most of all Aiden and Kady, and the ending because it spent more time on a written format from inside the AI instead of the chat rooms.
The format I enjoyed the most was the AI, Aiden, spoke and the reader got to see its side of the story. He reminded me a lot of Hal from
2001: A Space Odyssey
in the beginning but later on it was interesting to read how he evolves.
I recommend checking this out if you enjoy the format type because it has a unique plot and great characters.
My Rating:
3 Stars Out of 5