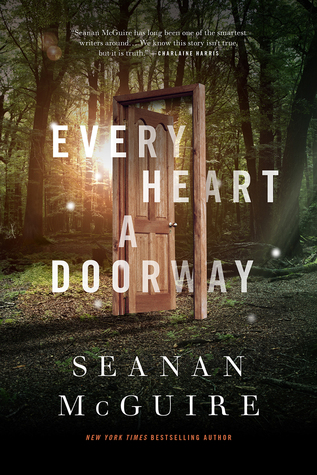 Summary from Goodreads:
Eleanor West's Home for Wayward Children
No Solicitations
No Visitors
No Quests

Children have always disappeared under the right conditions; slipping through the shadows under a bed or at the back of a wardrobe, tumbling down rabbit holes and into old wells, and emerging somewhere... else.

But magical lands have little need for used-up miracle children.

Nancy tumbled once, but now she's back. The things she's experienced... they change a person. The children under Miss West's care understand all too well. And each of them is seeking a way back to their own fantasy world.

But Nancy's arrival marks a change at the Home. There's a darkness just around each corner, and when tragedy strikes, it's up to Nancy and her new-found schoolmates to get to the heart of the matter.

No matter the cost.
My Review:
I went into the novel blind and with past disappointing reads from McGuire and was pleasantly surprised how original and well done this novel (or novelette) was.
The plot was the best part of the series, along with some of the characters, it so interesting to hear all about the various worlds that the girls/boys find. I'm a huge fan of Alice in Wonderland and this really intrigued me, I will be checking out the rest of the series.
The formatting and the pov was hard to follow at the start, and some of the characters were a bit over the top, and it felt rushed to me but I still enjoyed the novel.
The ending I feel could have been a true ending and this could have been a stand-alone novel but its been made into a series. However, I believe that there are so many options to take with this series and other characters to follow, so I cannot wait to come back this world.
I recommend checking this out, it was fun, unique, and a breeze to read.
My Rating:
4 Stars Out of 5