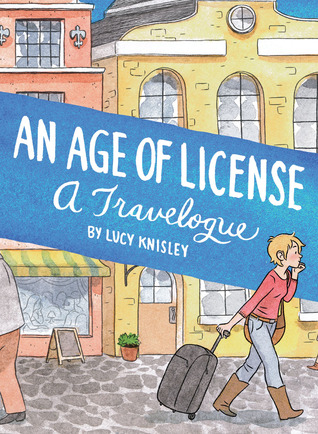 Summary from Goodreads:
Midnight picnics at the Eiffel Tower; wine tastings paired with blowgun lessons; and romance in cafés, cemeteries, and at the Brandenberg Gate--these are just some of
New York Times
best-selling cartoonist Lucy Knisley's experiences on her 2011 European book tour.
An Age of License
is both a graphic travelogue and a journal of her trip abroad. Fans of Knisley's food-focused autobiography (
French Milk
,
Relish
) savor her mouth-watering drawings and descriptions of culinary delights, seasons with cute cat cameos. But
An Age of License
is not all kittens and raclette crepes: Knisley's account of her adventures is colored by anxieties about her life and career, depicted with fearlessness, relatability, and honesty, making
An Age of License
an
Eat, Pray, Love
for the
Girls
generation.
My Review:
Yet another great comic memoir from Lucy Kinsley, and sadly I now only have one more comic from her to go,
French Milk
.
I was not as invested in this one compared to her others but it still was a great and fun read. It was interesting to read about her travels but I would have liked more about the food or sights of the cities.
However, I did love her art style and this one was a quicker read.
I recommend checking out all of her graphic novel memoirs! :)
My Rating:
Four Stars