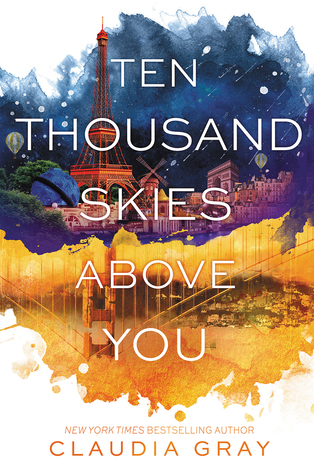 Summary from Goodreads:
Ever since she used the Firebird, her parents' invention, to cross into alternate dimensions, Marguerite has caught the attention of enemies who will do anything to force her into helping them dominate the multiverse—even hurting the people she loves. She resists until her boyfriend, Paul, is attacked and his consciousness scattered across multiple dimensions.
Marguerite has no choice but to search for each splinter of Paul's soul. The hunt sends her racing through a war-torn San Francisco, the criminal underworld of New York City, and a glittering Paris where another Marguerite hides a shocking secret. Each world brings Marguerite one step closer to rescuing Paul. But with each trial she faces, she begins to question the destiny she thought they shared.
The second book in the Firebird trilogy,
Ten Thousand Skies Above You
features Claudia Gray's lush, romantic language and smart, exciting action, and will have readers clamoring for the next book.
My Review:
Yet another sequel that was even better than the first novel, I guess I'm a fan of series that expand on interesting and great plots.
I'm surprised how much I'm enjoying the romance between Paul and Marguerite (not sure about Theo) and the lack of a love triangle helps this.
The best aspect, besides the characters, is the use of science, I love learning about the dimensional travel and all of the possible downsides of the travel.
And the cliffhanger!!!!
I recommend this series for those who enjoy light science fiction.
My Rating:
Four Stars Out of Five Stars