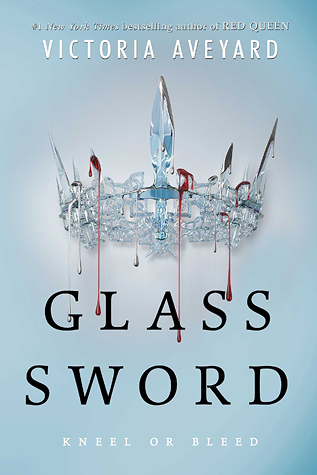 Summary from Goodreads:
If there's one thing Mare Barrow knows, it's that she's different.
Mare Barrow's blood is red—the color of common folk—but her Silver ability, the power to control lightning, has turned her into a weapon that the royal court tries to control.
The crown calls her an impossibility, a fake, but as she makes her escape from Maven, the prince—the friend—who betrayed her, Mare uncovers something startling: she is not the only one of her kind.
Pursued by Maven, now a vindictive king, Mare sets out to find and recruit other Red-and-Silver fighters to join in the struggle against her oppressors.
But Mare finds herself on a deadly path, at risk of becoming exactly the kind of monster she is trying to defeat.
Will she shatter under the weight of the lives that are the cost of rebellion? Or have treachery and betrayal hardened her forever?
The electrifying next installment in the Red Queen series escalates the struggle between the growing rebel army and the blood-segregated world they've always known—and pits Mare against the darkness that has grown in her soul.
My Review:
I was a tad underwhelmed by the first novel in this series but I found myself enjoying the sequel a bit more (even if it did remind me of other fantasy series like the Young Elites).
It built up a lot of characterization for Mare and her character is the main reason I'm sticking to the series until it ends, to find out what happens with her (and with Mare/Maven).
The pacing was okay but it spend way too much time on gathering up the army/running from fights and battles, I would have loved to see more time spent on the magical abilities.
The lack of Maven until the end brought it down because I love good villains and he was my favorite aspect of the first novel (not sure if I totally like Cal, he just seems a bit bland to me).
I'm excited to see what happens next especially after the dramatic ending,
My Rating:
Four Stars Out of Five Stars