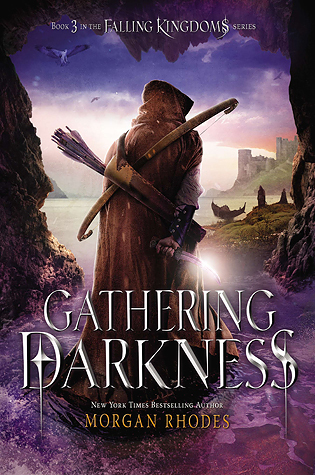 Summary from Goodreads:
In GATHERING DARKNESS, book three of the New York Times bestselling Falling Kingdoms series, the stakes have never been higher as three teams push forward on a race to find the Kindred, the four elemental crystals possessing ancient all-powerful magic, first:

Prince Magnus has just witnessed torture, death, and miracles during the bloody confrontation that decimated the rebel forces. Now he must choose between family and justice as his father, the cruel King Gaius, sets out to conquer all of Mytica. All Gaius needs now are the Kindred - the four elemental crystals that give godlike powers to their owner. But the King of Blood is not the only one hunting for this ancient, storied magic...

• THE KRAESHIANS join the hunt. Ashur and Amara, the royal siblings from the wealthy kingdom across the Silver Sea, charm and manipulate their way to the Kindred, proving to be more ruthless than perhaps even the King of Blood himself.

• THE REBELS forge ahead. Princess Cleo and vengeful Jonas lead them, slaying with sweetness, skill, and a secret that can control Lucia's overpowering magic - all so they can use the Kindred to win back their fallen kingdoms.

• THE WATCHERS follow Melenia out of the Sanctuary. They ally in the flesh with King Gaius, who vows to use Lucia's powers to unveil the Kindred.

The only certainty in the dark times is that whoever finds the magic first will control the fate of Mytica... but fate can be fickle when magic is involved.
My Review:
Once I get my hands on the books in this series I tend to fly through them, I even enjoy the multiple POVS.
My favorite character so far is Cleo and her interactions with Jonas, Nic, and Magus. I'm loving the female characters, a lot of kickass ones like Cleo and Lucia.
I feel that using the third person helps keep the story flowing and also keeps the different characters from blending together.
I'm excited about the upcoming magic in the next novel, I enjoyed the character development but I also want more magic! :)
I cannot wait to get my hands on book 4! I recommend checking out this interesting series!
My Rating:
Four Stars Out of Five