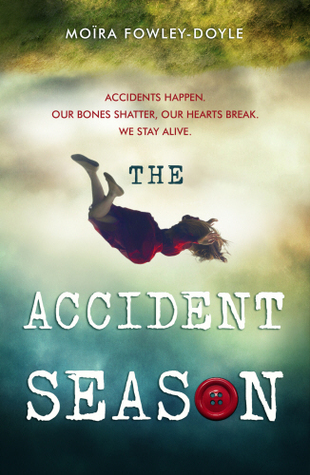 Summary from Goodreads:
It's the accident season, the same time every year. Bones break, skin tears, bruises bloom.
The accident season has been part of seventeen-year-old Cara's life for as long as she can remember. Towards the end of October, foreshadowed by the deaths of many relatives before them, Cara's family becomes inexplicably accident-prone. They banish knives to locked drawers, cover sharp table edges with padding, switch off electrical items - but injuries follow wherever they go, and the accident season becomes an ever-growing obsession and fear.
But why are they so cursed? And how can they break free?
My Review:
I was pretty hyped about reading this novel, mainly because of the strange plot and the amazing cover. However, despite how well written and beautiful the images were in the novel, it was a little too strange to follow.
It is pretty clear that the author was going for magical realism, like Bone Gap, however, the integration of the magical elements and the realistic ones was so confusing that I had a hard time reading it.
The accident season twist/explanation was a little hard to follow and was somewhat of a let down.
Despite that I loved the characters so much, I was disappointed with the magical realism aspects but loved the contemporary parts and the main character, Cara.
I recommend checking it out just for the characters.
My Rating:
Three Stars Out of Five